When tooth pain occurs, the first thing someone who needs a dentist will do is search for a solution on Google using their mobile phone.
The next step is to click the most relevant Google ad. They may scroll down the page to look for pertinent other solutions via Google My Business and Google Maps, a video, and organic results.
When they search, they likely search on Google for the type of problem they have.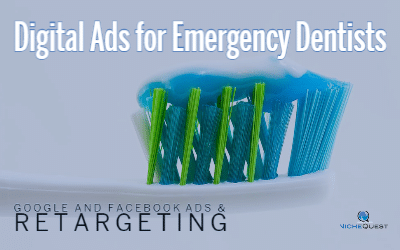 Types of Tooth Pain Needing Urgent Dental Care by an Emergency Dentist
Google Ads can target specific keywords related to tooth pain as well as geographic area.
Chipped or Broken Tooth
Loose Teeth
Tooth Loss, Knocked Out Tooth
Cavity
Bleeding Gums
Oral infections, swollen and abscessed gums
Wisdom Teeth and swelling
Not every tooth pain requires immediate dental care. Pain can come and go. Pain killers can alleviate the pain temporarily. A Google search resulting in a click to a website landing page may not result in a new patient. Many people do a search, land on a page, then are distracted and leave. So, what is the solution?
Digital Ads for Emergency Dentists – a Profitable Strategy
Using digital ads to promote your emergency dental practice can range from simple to advanced. We always recommend starting small, then expand as your campaign collects consumer data.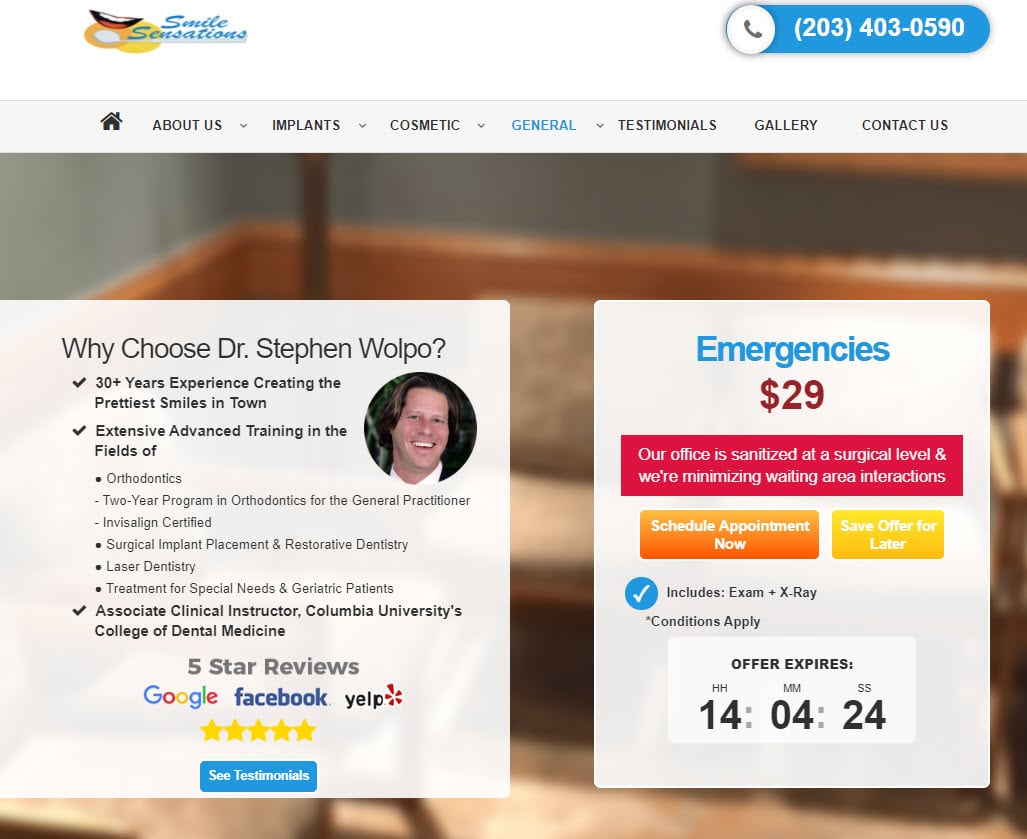 What to Consider – 5 Key Components to a Digital Ad Campaign for Dentists
Sales and Landing Pages – One of the essential parts of a successful Google Ad campaign begins with a sales page. The page needs to be mobile-friendly, including a clickable phone number, contact form, image of the dentist, services provided, Google Map, and Testimonials.
Google Ads – Also referred to as Google AdWords, can be created targeting specific keywords related to tooth pain and geographic targeting. In cities like NYC, targeting can be a few blocks, a neighborhood or part of the city such as Greenwich Village, SoHo, Tribeca, or Upper East Side. AdWords can start with budgets as low as $300 – $500 per month.
Display Ads – Display ads are graphic ads that you see on News sites. They can be created targeting geographic areas. Your display ads can even target specific properties such as a hospital with accuracy with 3 feet. This direct targeting of specific buildings is called Geo-Fencing.
Retargeting Ads – Retargeting ads are created by adding a pixel to a web page. When someone lands on a page, they trigger the pixel. The result is ads that are shown to the web page visitor over and over. Retargeting results in high conversion. They create trust and brand recognition.
Facebook and Instagram Ads – Facebook and Instagram Ads for emergency dentists are profitable when appropriately created. Instagram and Facebook also provide retargeting. You can run Google Ads, then create an Instagram and Facebook Retargeting Campaign. With this method, you can send a high intent Google search to a sales page, then retarget the visitor on Facebook.
About NicheQuest For Dental Practices
NicheQuest is a digital advertising agency with a full team creating custom graphics, videos, websites, landing pages, Google, and Facebook Ads. You can start with a free strategy analysis and website health report.
With hundreds of successful campaigns, we know what works and what doesn't. Every dental practice is different, so every digital campaign needs a custom marketing solution.
For more information, contact us at 203-762-1366.

Latest posts by Edward Winslow
(see all)