Want to position your walk-in clinic services directly to your patients? Google Adwords provides the most effective way to advertise your medical services to your patients.
It only takes one day to create your ads, and they typically go live within two days. Once live, the ads will appear for specific searches in local areas.
Ad targets can be by neighborhood, town, or city. They can appear for specific ailments if your walk-in clinic provides specialized health care.
Critical Elements to a Google Adwords Ad
1. Phone Number – Your phone number needs to be visible on an ad and your landing page. Most patients will search via mobile phone. The landing page needs to have an easy click to call feature.
2. Local Targeting – Your ads can be hyper-local targeted. If you service a 5 to 10 block radius in a city, your ads can target that market specifically. If suburban markets, you can target an audience in a single town or part of two different towns. You can focus on where your market is specifically.
3. Adwords for Walk-In Clinic Pricing – Cost is very affordable. Pricing starts at $399 per month. Ads can be scaled based on the amount of visibility you desire. It's always best to start small and expand.
Setting Up Adwords for Walkin Clinics – The Process
About Your Clinic – The first step is to tell us about your clinic.
Create The Google Ads – We do the keyword research for your ads based on what your patients search. Then we create customized ads.
Optimize The Ads – ads are op[timized for best results based on your budget and target audience.
Monitor Ads – We monitor and improve ads over time to maximize results.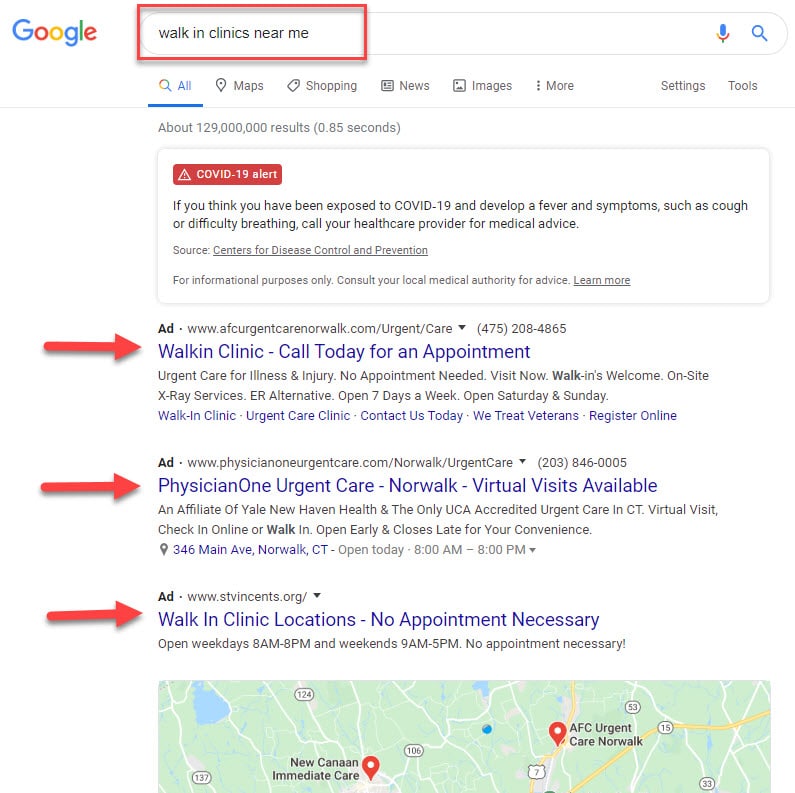 Local Areas We Serve
We are based in Wilton, Connecticut, 1 Hour From NYC. We work with clients nationwide. We can provide AdWords campaigns for one location or many.

Latest posts by Edward Winslow
(see all)