To successfully build your brand and dominate your market, you need a local SEO strategy for your site.
By local SEO, I'm referring to your plan for content marketing on Google and social media, including Facebook and Twitter. Success on these platforms means you'll dominate your market and ultimately go national with your website.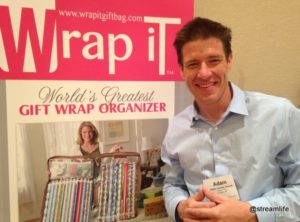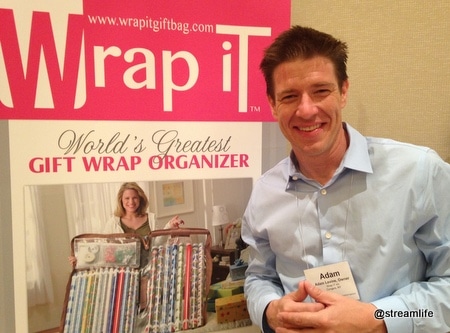 I'm going to walk you through the process as I explained to Adam Levine, an entrepreneur and inventor of Wrap It Gift Bags, who you can see in the image at left.
Adam is a leader in the organization business with over 10 appearances live on nationally-televised QVC. Adam provides business coaching to local organization professionals to help them build their brands and generate new clients.
You can apply the following steps to any business, no matter whether it's a local gym, law practice, natural health practice, home improvement business or any of a few hundred local niche markets.
Eleven Local SEO Strategies for Professional Organizers

Step 1: Mind Set – If you haven't read our blog about creating your business mind set, you should. It works. You need a plan that you follow every day.
Step 2: Client Value – What is the value of each client? What is the cost of the services you're offering? How many do you need to sell to reach your goal?
Step 3: Target Client – Who is your target client? What are they willing to pay?
For example, if you're in Greenwich, Connecticut or Beverly Hills, California, you can charge a ton. If you're in the middle of Nebraska, it might be harder to find homeowners willing to pay your organizing fees. However, everywhere there are businesses who will pay for Organizing Services. You need to think about your market and target customer.
It only takes a few minutes to do the research you need to find what your target customer wants.
Step 4: Tools You Need – I suggest a WordPress website with blog if you don't already have one. You need a Facebook and Twitter page. You also need to set up a free Google My Business account. With your Google My Business account, you will be able to set up a YouTube Channel. I'll explain how to set up these tools properly in another post.
Step 5: Content – The main purpose of this blog is how to create a local SEO content strategy that will rank on Google. It also becomes a critical part of your social media strategy.
This is important. You need to align SEO and Social Media. They feed off each other. Google is a robot that learns the best information to promote based on consumer behavior. They analyze what and how people search. They analyze the clicks and the pages they click to on websites. Then, they look at how much time visitors spend on web pages and where they click throughout a website.
Google also looks at websites that link to your website. What is the quality and relevance of sites that link to your website? How many websites link to yours?
The more high quality websites that link to yours, the higher you will rank on Google.
That's only one of the factors Google uses.
They also look at the content of your website along with the keywords and keyword phrases you use in the content of your web pages. So, it's important to learn from Google how to create your social media message.
Step 6: Developing Your Content Strategy – Where To Start? Google, Facebook, Twitter, YouTube, WordPress, these are all tools to use to communicate your message.
The tools aren't enough. You need to create the content that connects with your target clients. Just knowing how will elevate you high above your competitors. It's the content that will enable you to dominate your local market.
Then once you start dominating your local market, you will naturally start to expand nationally.
Step 7 – Using Amazon to Get Content Ideas
Let's take a look at Amazon for content ideas.
[et_bloom_locked optin_id="optin_7″]
Here's the free video walk-through I promised. Watch me go over the steps I take to use Amazon, Facebook, YouTube and keyword research software to develop a local SEO strategy for my clients. Below the video, you'll also find quick exercises and other tips to get the most out of this strategy.
Amazon is where I always start. I might go to the free Google Keyword Planner to get keyword ideas before going to Amazon. Sometimes I go to Amazon to get keyword ideas, then go to the Keyword Planner. I'll go back and forth.
Amazon is an amazing tool with valuable information. Search for Books by keyword and you'll find the top sellers, reviews and keyword ideas.
You can look at the table of contents to find the topics people are paying for. This is what is in demand.
Why not just give your market what they want?
Quick Exercise to Determine What Your Market Wants
1) Go to Amazon and click the category. I clicked Books and typed in Organizer. You'll want to search different keywords. For example, if you search "Organize," "Organizer" or "Professional Organizer," you'll get different results.
As you go through this quick and simple process, you'll find many topics.
You can see below, the first ones that come up are Wedding and Bill Organizers. My first glance I see that there are 357 reviews for wedding planners and 2 for Bill Organizer.
Reviews are an indication of engagement. This shows passion and interest in the topic.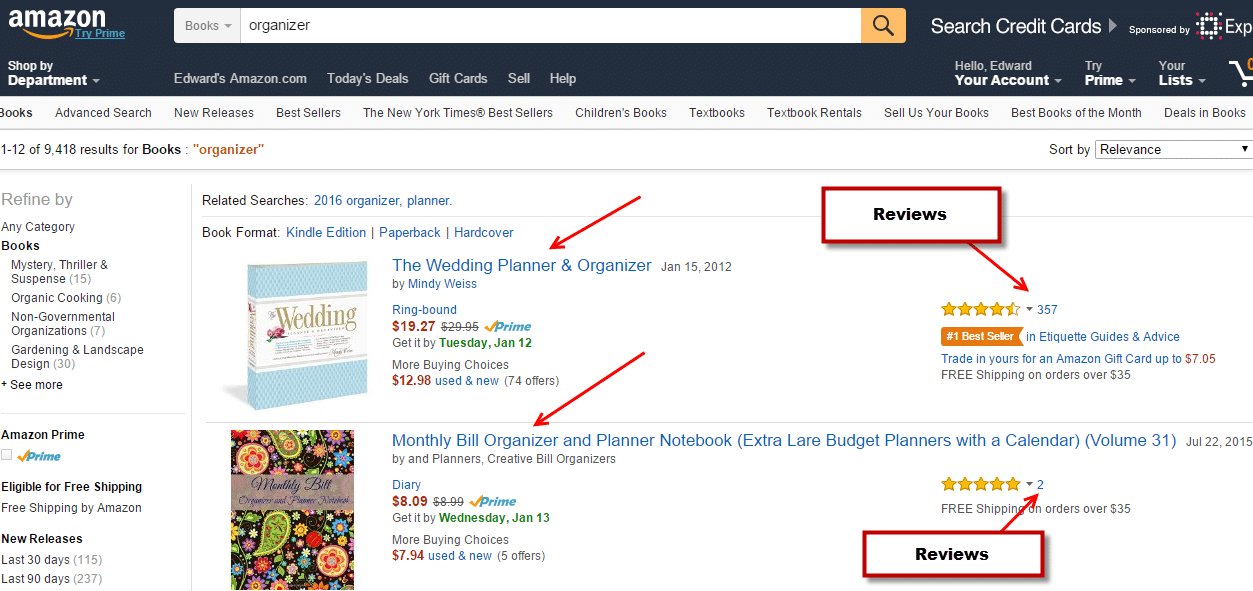 My first thought was Wedding Planner. That's probably a great local niche. Imagine if you rank #1 in Your Town, County or State for Wedding Planner.
There are unlimited blogs you can write on this topic.
Let's do another search for Wedding Organizer. This search reveals pages of books on this topic.
Let's click the first book to see what we find.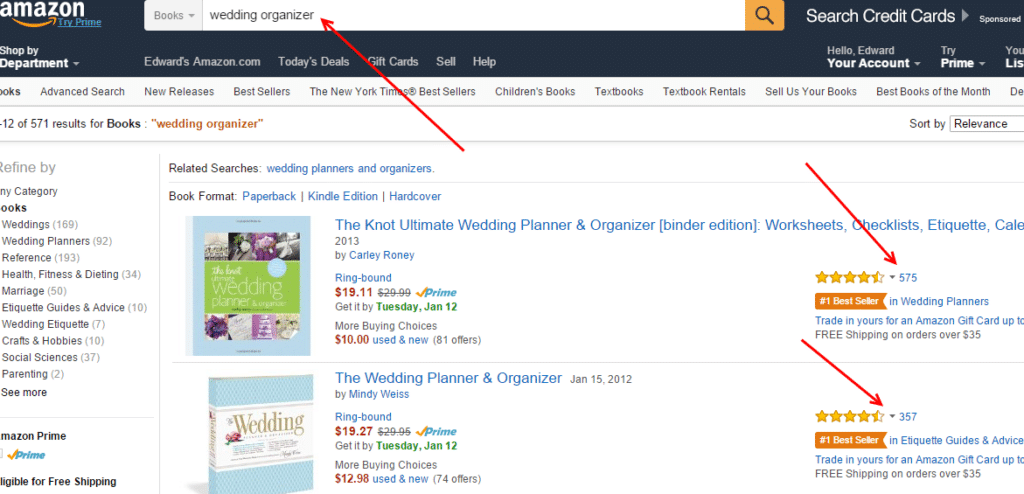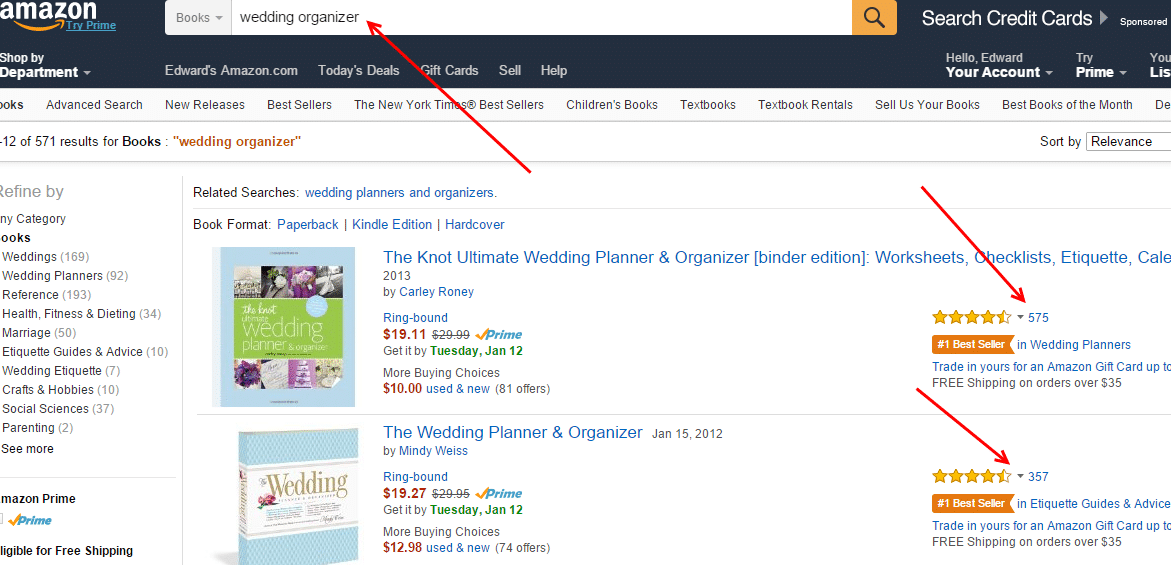 Once I click the link, we find the book with an opportunity to look inside.
2) Next, let's take a look at what is selling.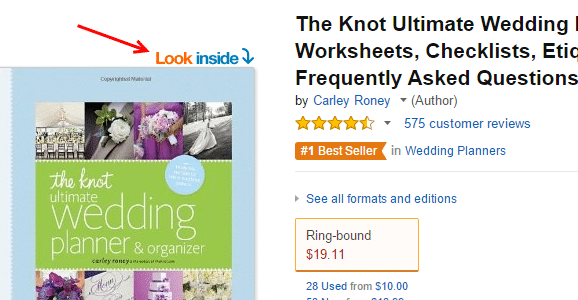 Inside we find worksheets with Wedding Contacts, inspiration tips, Wedding Style Worksheets, Wedding Colors, Timeline Sheet, Budgeting, Finding Your Wedding Planner Worksheet , vendor worksheet and on and on.
You can write a blog on every one of these topics.
In fact, if you follow this exercise, you can learn the best from the top 5 books and create your own wedding guide that might be better than anything else available.
This process will brand you as the Best Wedding Planner in your market. Now you have a local SEO marketing strategy plus unlimited social media posts that you can get your social contacts to share.
This quick exercise demonstrates how easy it is to find topics your target audience wants based on what is selling.
If you scroll down further, you will find other books people have bought that are relevant.
Scroll down further and you'll find the Amazon Best Sellers Rank. Plus you can read the reviews and see the topics people liked or disliked.
You can take this step even further.
After the wedding there is the honeymoon. So try searching Honey Moon Planner.
After the Honeymoon there is renting an apartment or buying a house. Go back to Apartment or Home Organizer, or Organizing your finances. You can even go into Organizing A Babys Room or Planning for College.
All you need to do is keep thinking about your customer. Who are they? What do they want? How will you make money as a professional organizer?
You see how you can become a local Brand in your niche with national potential?
Step 8: Facebook Groups – Facebook groups are a great way to find engaging topics in your niche.

When you search for Facebook Groups, start with the keyword categories you found when doing your Amazon search.
You may need to dig around Facebook and join groups to find out the top topics being discussed, liked and shared.
Again, in a few clicks, you can find engaging content for your blog. You'll also find who is successful and watch what they do, how often do they write blogs and post to Facebook.
Look at the websites of the most successful. Look for ways they are monetizing their website. They might be promoting books or products on Amazon, perhaps they are promoting affiliate products or running paid workshops.
Step 9: YouTube – Go to YouTube and type in Organize and you'll find page after page of videos. Some have an amazing amount of views.
You can see below one has over 4.5 million views.
If you search deeper, you'll find videos on just about niche in the organizing category.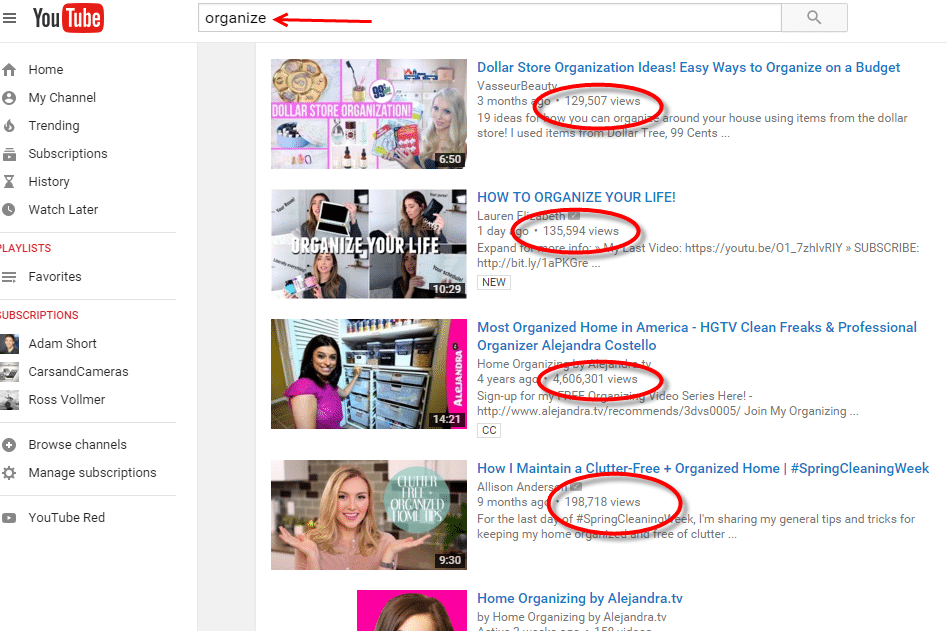 Here are a few Examples and Amount of Views:
Organize Your Desk – 2.2 Million Views
40 Ideas to Organize Your Garage – 204,787 Views
Organize Business with Evernote – 109,710 Views
How To Plan a Wedding in 10 Steps – 2,9 MillionViews
Organize Your Kitchen – many videos with over 100,000 views
Step 11 – Keyword Research
Below you can see a small amount of keywords. If you would like the entire keyword list, send me an email, and I'll send the list to you.
As I mentioned at the beginning, keywords are the foundation of the internet, Google search and your Social Media Message.
Keywords are like spices. Use them in all your blogs, Facebook and Twitter Posts, You Tube videos, in fact everywhere you post content online.
Understanding keywords and their synonyms will enable you to get extensive exposure on Google plus create Facebook and Twitter messages that connect with your customers.
Step 11: How to Organize a Blog Strategy – Create Your Spread sheet
Set up an excel spread sheet for each of the main topics mentioned above.
You should have a category for keyword topics and ideas, Amazon Books and Topics, Facebook Groups, YouTube Videos, Keywords from Google Keyword Planner.
It only takes a few minutes to perform keyword research with each resource I've mentioned above.
[/et_bloom_locked]
This will enable you to develop the best content for your local or national market based on topics with proven demand.
---
If you've gone through steps 1 to 11 in this post, you will achieve results. The most important part is to take action today while the information is fresh on your mind. The sooner you start, the quicker you'll take build your brand and gain new customers for your business.

Latest posts by Edward Winslow
(see all)