The core fundamentals  of search engine ranking and ranking at the top of a Google search specifically (Bing and Yahoo make up about 20%) has not changed. It's still all about picking the right keywords, quality onpage content and inbound links from other sites.
Keywords – In some cases, ranking for a high traffic keyword will produce huge traffic and sales. However, 90% of sales typically come from longtail keywords. If not familiar with a longtail keyword, it's a query or a question. To be profitable, you need to rank for hundreds of search terms.
The question is, how do you rank for 100's of search terms and unknown search queries? 
Keyword Combinations
The answer to the previous question starts with knowing who your target customer is, what they want and where they are. Once you know the answer, you can start doing keyword research.
The main tools I use are the Google Keyword Planner formerly known as the Google Keyword Tool. Google in the past year made slight changes to the keyword tool and changed the name, but basically it provides the same keyword results.
I also use a Google search and look at the Google suggestions they drop down to help a searcher.
Below is a sample of a search for office space in the keyword planner. Note the categories.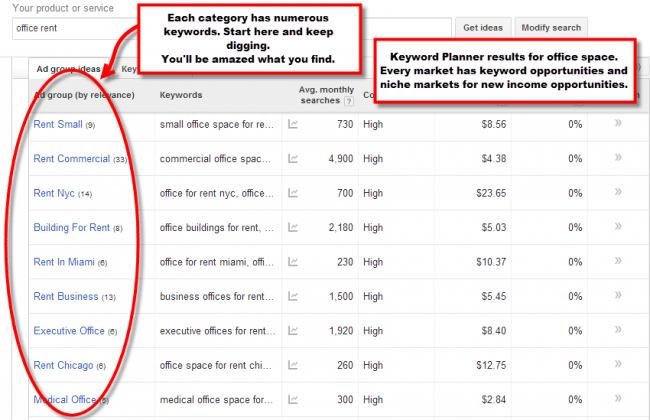 An valuable source of keywords is Amazon. I look for books and products and read the descriptions, Amazon rank and reviews. This is an amazing resource all done for you. Local businesses and affiliate marketers can model their website and social media strategies based on proven demand that can be easily and quickly found on Amazon.
See an example below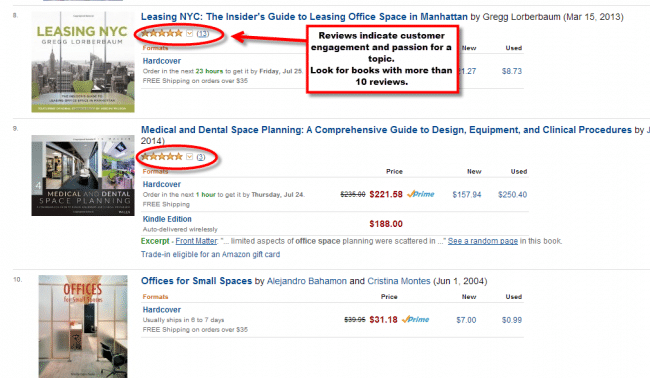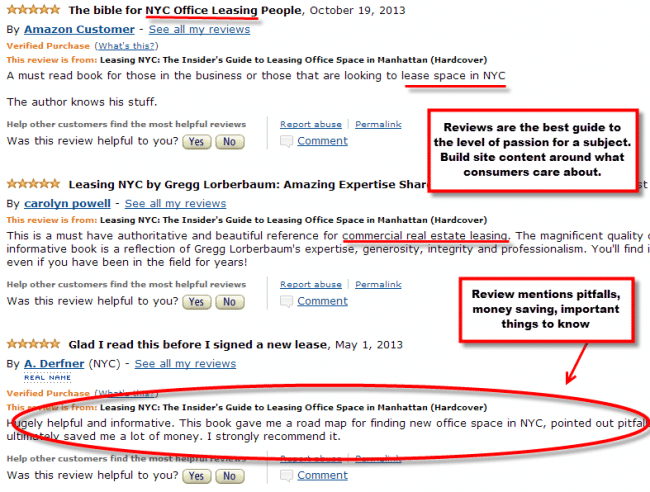 The ultimate goal is to create keyword driven pages supported with synonym rich content. This is called semantics and semantic search is at the core of the Google model.
Then you want to link your web pages together. The best strategy for inner site linking is to create links from your home page to topic pages, then link topic pages to your most important topic page.
Then create sub topic pages, link them together and ultimately link them to the most relevant topic pages on your site.
The image below gives you an idea of how this strategy works.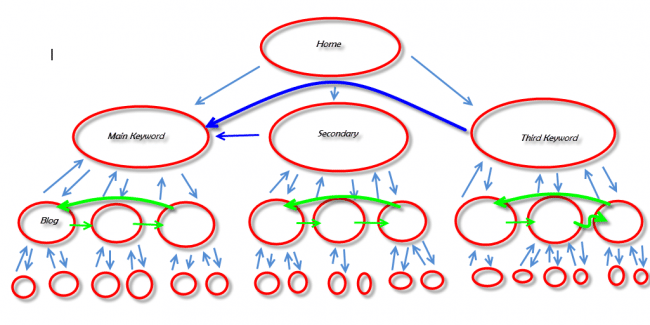 This is an important part of ranking for many keywords and search queries. Google reviews pages and follows links. The better job you do creating your on page content, followed by a link path based on relevance throughout your site, the more Google will know about what you do and where.
A great example of this result is a NicheQuest client who runs a painting company and coatings company. Company paints commercial and residential properties, applies floor paints and roof coatings. By linking his roof coatings page to industrial paintings page they ranked for many searches but one in particular was roof painters. This is not a keyword we targeted by ranked #1 on Google. The first lead was to apply roof paint to 5 Taco Bell Restaurants. Turns out the client owned 300 franchises and all needed to be repainted every 5 years.
That's the power of ranking for keyword combinations. You rank, you get the call, you make money. It's that simple.
Inbound Link Building
Once your pages are written, loaded onto your site, links are created within your site, the next step is a powerful, relevant, long term inbound link plan. This means links from high quality, relevant sites.
You don't want quantity of links, you want links from quality resources. And you want them well balanced. Links should look very natural. Brand Links, Click Here, Read More NOT links of target keywords over and over like Office Space or Homes For Sale or Dentist over and over.
Here's an example of Trust Flow and Link Balance
Trust flow is a metric from 0-100 that determines how trustworthy your site is based on the quality and relevance of the inbound links from other sites to your site. This is the result from one of my sites. I need to get the trust and citation flow higher. I will do this over the next few months with new inbound links to the site. Inbound links do need to be maintained. Over time links fall off which negatively affects your site rankings and anchor text balance. Anchor text is the keyword in the link.This is a critical part of link building.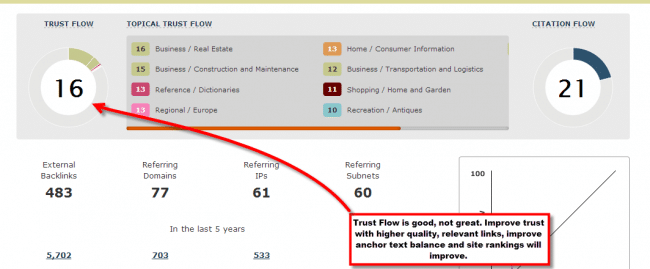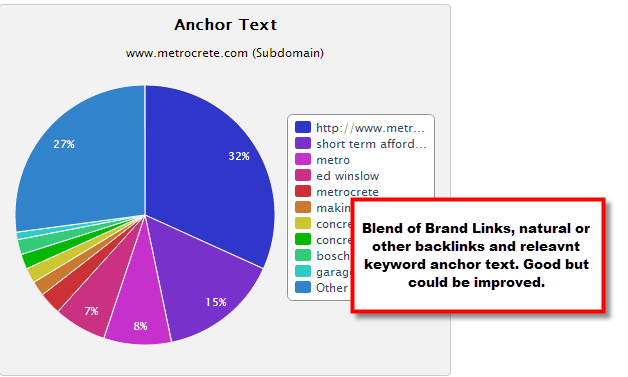 Summary
Search Engine Optimization is probably the most profitable and cost effective way to get new clients and make money. If you've never ranked high on Google, then you haven't experienced the goodness of the internet. I guarantee, one of your competitors got a great lead today that you did not.
In fact, it's becoming extremely difficult for many businesses to survive without prime internet exposure. A website that doesn't get found is worthless.
7 Step Process
What Do You Do and Where
Who Is Target Customer and Where Are They
Keyword Research – General Keywords, Longtail Keywords (Google and Amazon)
Topics – What Are The Main Topics of Your Website
Page Content – Keyword driven with synonyms and deep descriptions
Inner Site Links – Create a Link Path ultimately linking to most important page.
Inbound Link Strategy – If your website is your car, inbound links are the accelerator that makes it go. Without inbound links, it's hard to get very far.
Need a site and optimization analysis?  Call me at 203-762-1366.

Latest posts by Edward Winslow
(see all)