If you placed an office space for rent/lease sign in front of every building in your market, you would be considered the authoritative expert. Not only would you generate leads from tenants, but owners would also want you to handle the marketing of their space too.
And they'd be calling you rather than you trying to cold call them. How nice would that be?
That is not a fantasy. It can be a reality on Digital Main Street.
Today, Google is the new main street where everyone searches for what they want.
When tenants are in the market, or a building owner wants market information, they search on Google.
Imagine you dominate Google searches for everything tenants and owners search online in your market.
How about Google searches for lease rates for every building in your market?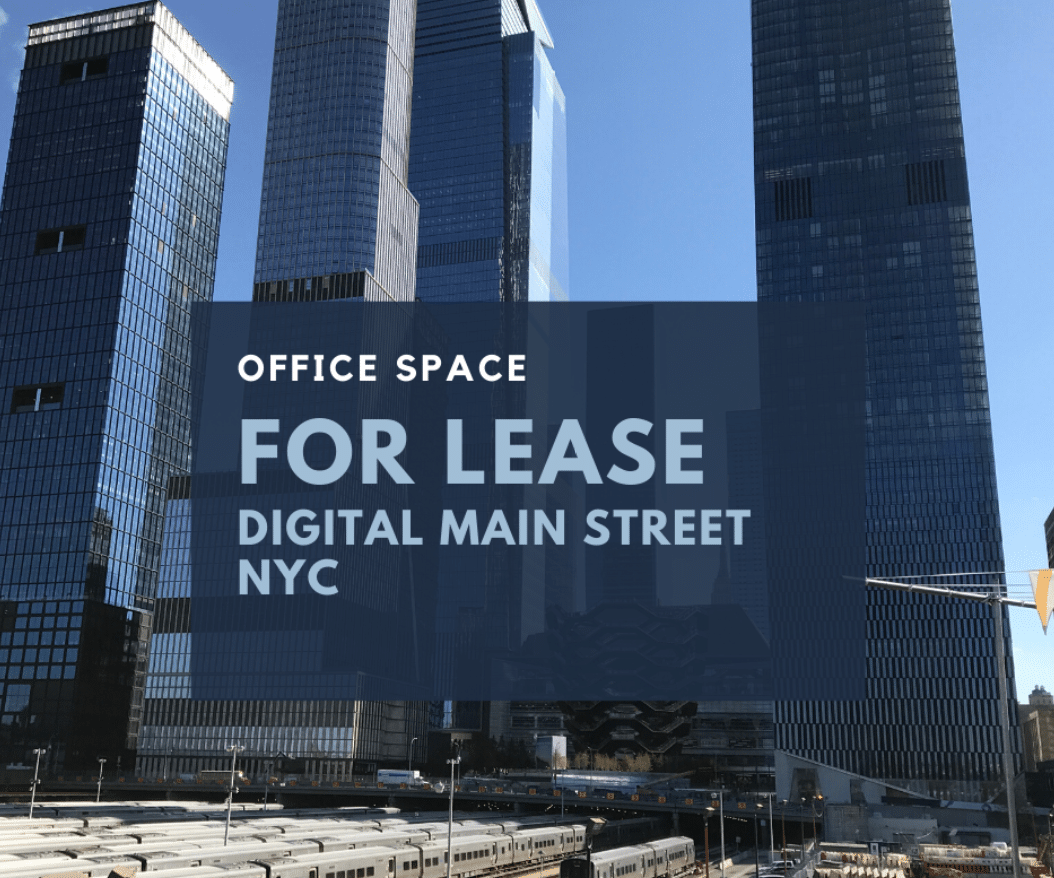 Google My Business SEO Success:  Cogent Realty Advisors
Cogent Realty Advisors of NYC (owned by Mitch Waldman) a boutique commercial office leasing brokerage has done just that.
Every week Mitch writes an in-depth blog post about office buildings in NYC. Every quarter he writes a market update. Tenants and landlords call him.
Then Mitch invests in what I call the 100K GMB Breakthrough. This is a media marketing and promotion formula we created to generate over 100,000 views for Google My Business and Maps.
Here's a sample Google search result Mitch obtained for Office Space for Rent World Trade Center: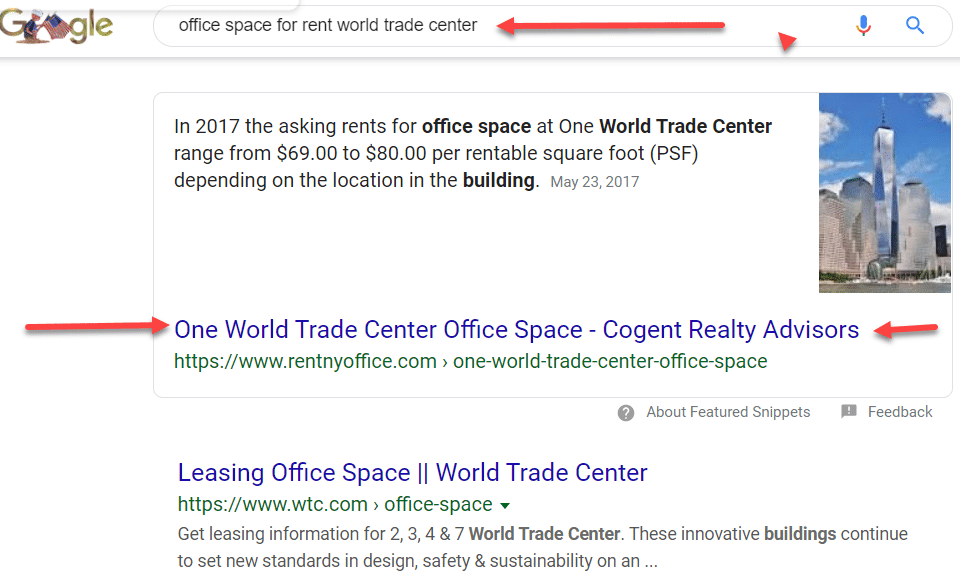 Imagine replicating this strategy for hundreds of buildings in your market.
All you need is:
Website and Blog
Google My Business
100K GMB Breakthrough
There is effort needed. But you already have the skills. You write market reports, proposals, emails. You're already a content marketer. Why not apply what you already do every day online?
Or you can keep cold calling.
Your competitors aren't doing this. Yet.
How To Dominate Your Office Leasing Market With Google My Business and 100K GMB Breakthrough

Step 1. Keyword research
We use a combination of keyword tools and resources to find what customers search for. The 100K GMB Breakthrough came from thousands of keyword searches and combinations of keywords.
Look at keywords as your sales force. Every keyword has the potential to generate a deal. Considering that commissions for office leasing can be $5,000 to $100,000 or more, keywords should be taken seriously.
You need to know what those keywords are and how to use them. There are unlimited hooks and angles you can capitalize on to massively increase your income using keywords.
You should also know how people search on Google. As I mentioned, they search for specific buildings. But then also search with words such as price, cost, and rates.
They also ask Google questions.
For example:
How much space do I need?
How much office space per person/employee?
People also ask Google for Office Space Near …
Hospitals, Schools/Universities, Transportation, Courts (i.e. office space for lawyers near City Hall)
Office space for lease near Metro-North in Stamford
Office Space for rent near Mt Sinai Hospital
Office Space for Rent Near New York University
*Note – Near searches are extremely profitable. Google My Business and Maps is your tool to capture near searches.
People Search for Office Space "with" …
Office space for lease with parking
Office space for rent with storage/warehouse
Office space for rent with conference room/kitchen/meeting rooms/gym/
People Search Comparisons
How Much Does Office Space Cost at World Trade Center Versus Empire State Building
Here's a breakdown of keyword categories. Use these keywords in everything you post online.
You may think no one searches these keywords. Yeah, they do. If they speak it, they search for it.
Services – Office Space for rent/lease
Benefits – include benefits such as prime addresses, support staff available, onsite building maintenance, elevators, parking, internet.
Descriptive Words – office space, workplaces, interim, short term, temporary, turnkey, office sublets, corporate, professional space, officer provider, individual offices, commercial
Qualifier Words – quote, for lease, for rent, rental, with kitchen, with gym, with no windows, with parking, with storage, flexible rental terms, suites, with receptionist, with call answering, versus,
For – startups, entrepreneurs, small business, growing companies, tech companies, hedge funds, lawyers, insurance, medical, therapists, architects, writers, freelancers, fashion designers, doctors, film production companies
Price – how much, cost, rates, price, Price Per Square Foot, PSF
Geography – Landmarks, companies, transportation, subway stops, parks, buildings, neighborhoods, streets, near
Once you have built the keyword and geographic foundation, you can use these to create phrases on your web pages, blogs, Facebook, Linked In, YouTube, Google My Business and Maps and your website.
They become trigger words that you use to rank on Google, build your brand and use for social media pages.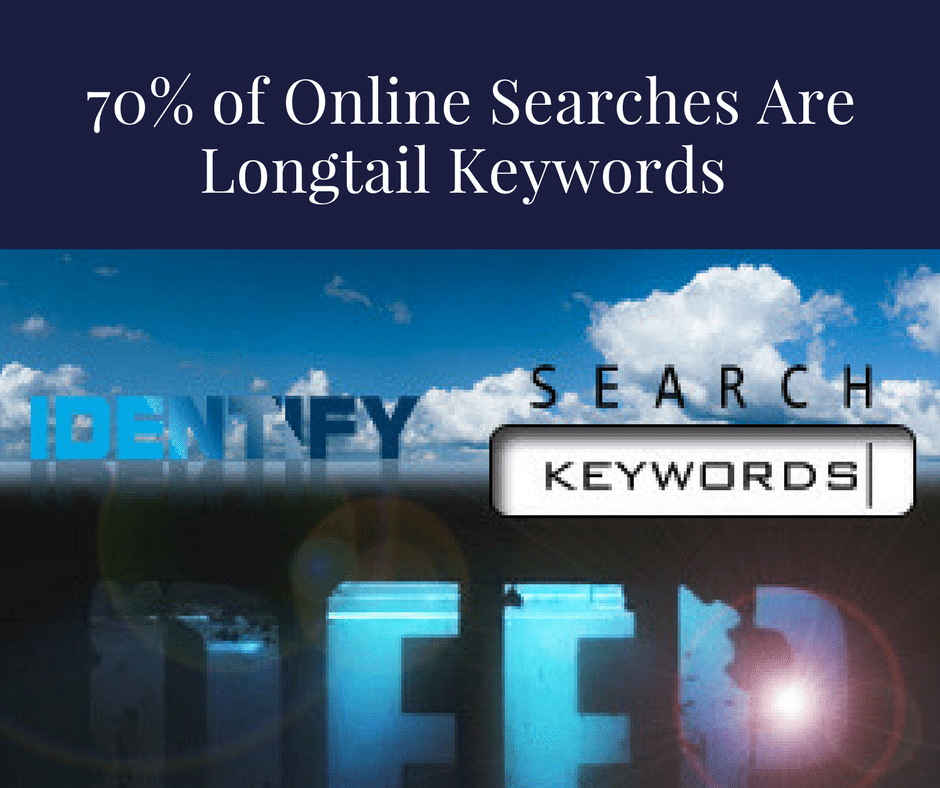 Step 2. Website Optimization for Commercial Office Leasing Brokers
Web Pages – The ideal strategy is to start with your keywords, write your webpages, then build your website.
Best results start with keywords and geographic terms your potential customers search for.
Semantics – Each web page should be about a specific topic. The content (and keywords) need to be relevant to each topic. Irrelevant words will dilute your content limiting your potential to rank on Google.
Title and Meta Description – Each of your web pages content needs to follow your title and meta description. Title and Meta are the first signals to Google about the content of your page.
Mobile-First Design – mobile use has become paramount. Everyone is on mobile. Your site needs an easy-to-click phone number and an easy-to-fill-out contact form with name, phone, and email. Since everyone uses mobile phones, follow up text messaging is important for converting prospects into sales. Prospects may not respond to email or phone calls, but they usually respond to text messages.
Get phone numbers whenever possible for follow up with text messages.
Office Building Pages – 99.99% of your competitors do not have pages about buildings in your market.
I like to follow templates. Templates minimize the effort to write pages about buildings.
Building pages are frequently picked up by Google My Business and maps as well. It's worth the extra few minutes to get a link from Google Maps of a building and paste it into your building page or blog.
Always keep in mind, this is sales. You want every edge possible. Always keep in mind the value of your next lead.
Image Gallery – You can optimize your website with photos of the building and geographic data. Take advantage of it. Take photos of buildings with your mobile phone. Be sure your Geographic settings are turned on. Google will read the latitude and longitude data of each photo. This will increase your Google visibility.
Schema Code – Schema Code will help your website rank better by providing signals to help Google better understand your website. Schema Code will help align your website and Google My Business SEO Rankings.
Blogs – Blog posts have huge potential, especially when you optimize the posts with keywords. For example, an interesting blog topic is Film Production Space for Rent in NYC. This is a low competition, high conversion topic for Business Centers with the interior, windowless office space.
There are countless angles you can use your blog for. Just listen to what your clients and prospects say they want. Don't rely on keyword tools. Best results come from listening to your prospects and customers. Then write a blog post about specific interests your prospects have.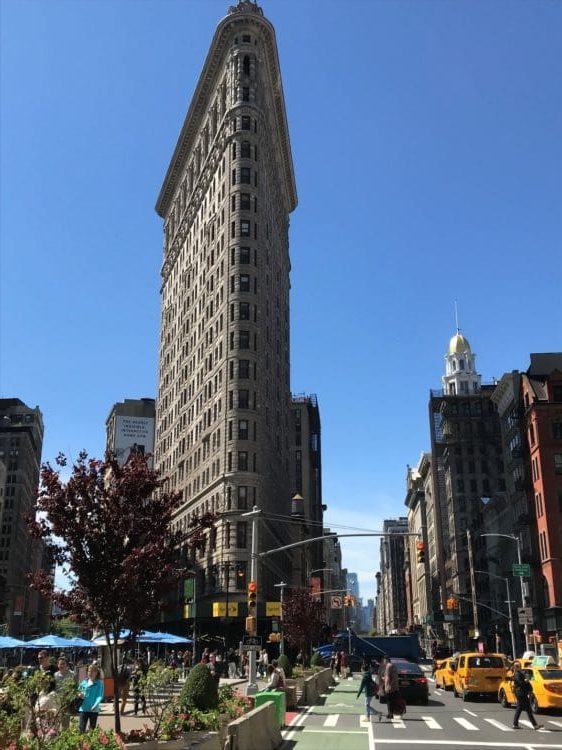 Step 3. Google My Business SEO Maps Optimization – 100K GMB Breakthrough
We call it GMB for short.
Few business owners and marketing agencies know the value of GMB and Maps. GMB and your website work together. When we implement our 100k GMB Breakthrough, we actually see results as if your GMB and Website speak to each other and help each other.
NAP Data – GMB optimization includes your business name, address, and phone. The NAP Data needs to exactly follow Google My Business. This includes spelling, commas, spaces, zip code, and phone number. Just match everything following how Google lists your NAP Data.
NAP Data On 100k GMB Breakthrough – we use NAP Data on everything. This includes all media, photos, blog posts, videos, Facebook, Linked In, Twitter.
Info – When you set up your GMB, use the keywords and geographic terms most relevant to your furnished office and Coworking Space.
Photos – Google knows people like photos. They also want accurate information. I suggest using photos with a mobile phone with geographic settings turned on. Google looks for latitude and longitude for your photos. This is an important part of your GMB optimization.
Interior Photos – Use photos of the interior of buildings. Take images of the lobby, building address signs, elevators, interior parking, offices, reception areas.
Exterior Photos – You can take exterior images of a building location (GEO Settings turned on) and upload it to your GMB.
Google My Business Website – Google gives you a free website with your Google My Business account. Take advantage of it. It will help you expand your footprint on Google.
Google My Business Posting – There is a feature for publishing short posts on your GMB page. Use the keywords, geographic terms and building address to expand your footprint and generate more sales. I have a tutorial about using this tool.
Reviews – Your GMB account includes Google reviews. Reviews show up on your GMB page. How to build reviews and your online reputation is a critical part of building your brand and generating sales.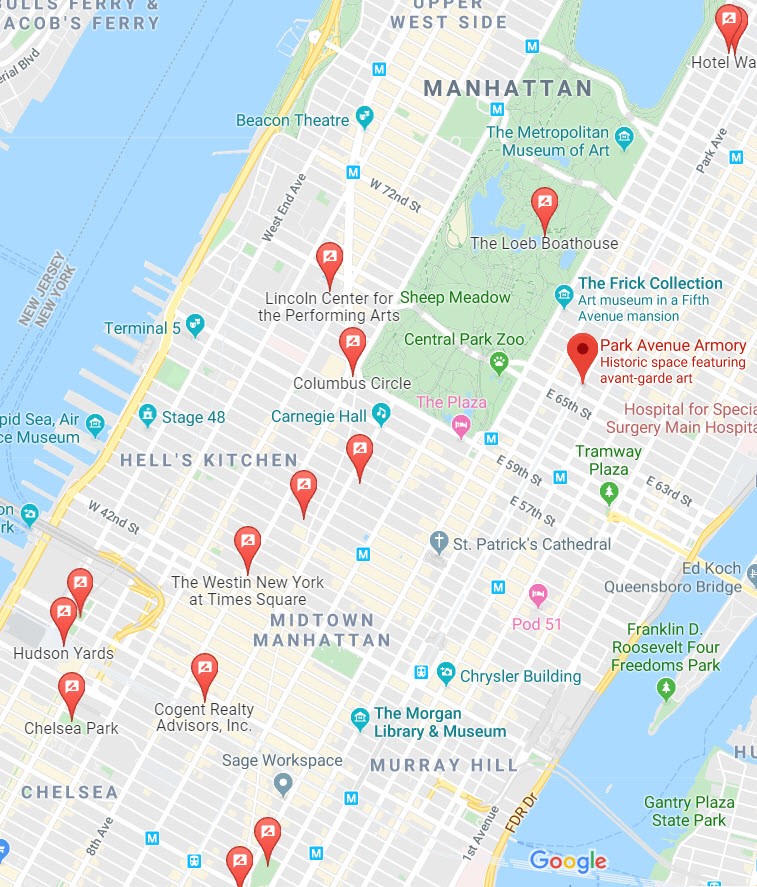 Step 4. The 100K GMB Breakthrough – Google My Business SEO with Media Promotion for Commercial Office Leasing Brokers
The image below shows how the 100K GMB Breakthrough creates an unfair advantage for our clients.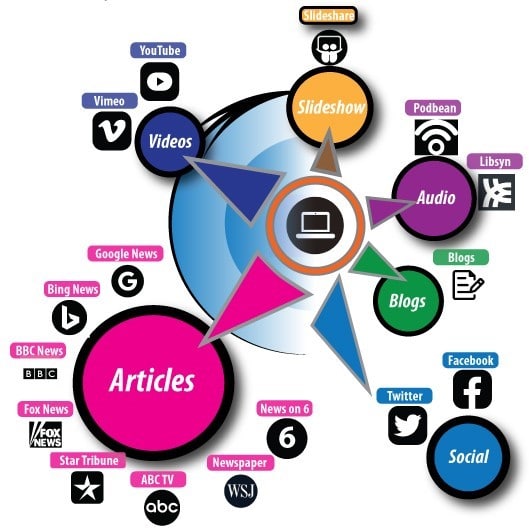 The high-octane fuel that drives the search results on Google and the 100K GMB Breakthrough is monthly media promotion campaigns on Brand name news sites using all the resources above.
Google measures the reputation of your business by the quality and quantity of sites that link to you.
Media Sites – we create monthly keyword-rich articles relevant to your business. They appear on 300-500 news sites including Google News, USA Today and many highly respected news channels
Blogs – Articles are submitted to high traffic authority blog sites that link back to your GMB and website.
YouTube and Vimeo Videos – Articles are converted to info videos that link back to your GMB and news articles embellishing your reputation.
Facebook, LinkedIn, and Twitter – media articles can be posted to your social sites about your company In the News, leasing guides and market reports.
Monthly promotion is what produces the explosive growth and led to the 100K GMB Breakthrough.
---
About Niche Quest
Niche Question was formed in 2006 as a niche marketing agency. The digital agency specializes in Google My Business SEO growth strategies by capitalizing on profitable angles where customers search and competitors overlook.
15% of all Google searches have never been searched before. Many searches have low competition and high consumer intent. That's where Niche Quest travels with our clients.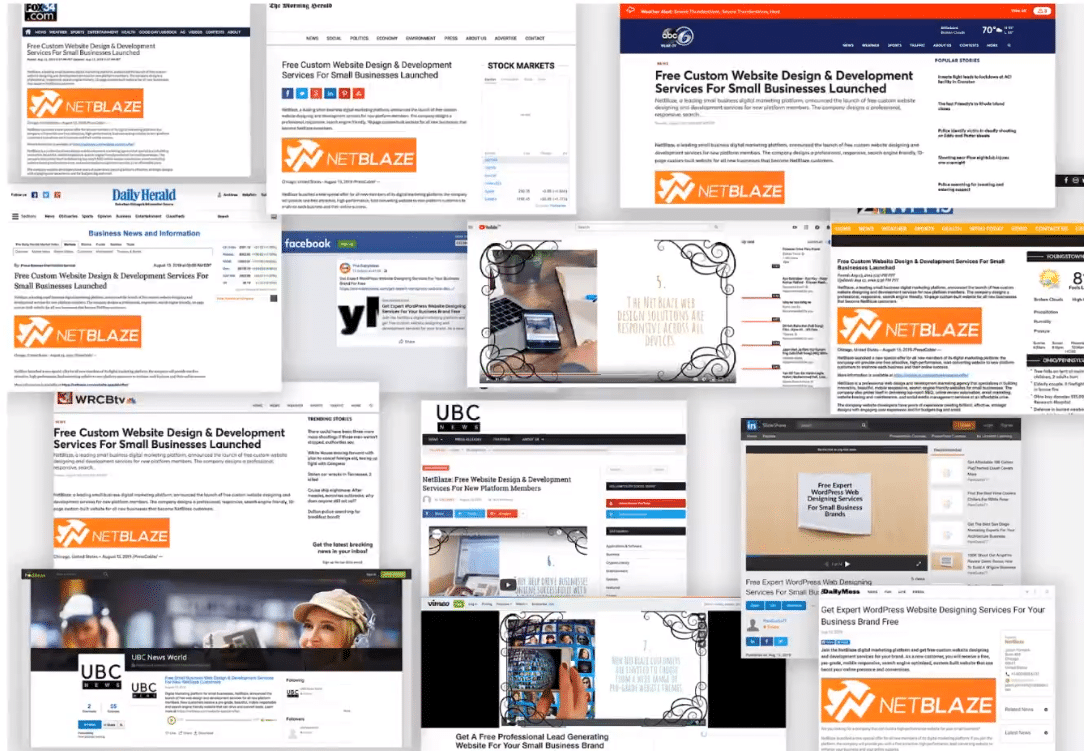 Latest posts by Edward Winslow
(see all)