Google My Business (GMB) and Maps have massive moneymaking power few business owners know exists. Most business owners set up their Google My Business account, add a few photos and categories and leave it at that. They miss a huge moneymaking opportunity.
What Is GMB Optimization?
Most online sources will tell you GMB Optimization is nothing more than filling out the Google My Business page with accurate information.
To the Niche Quest team, optimization creates lead generation opportunities. If you do the minimum, you will get limited results. The key to success is to build a massive network of content (articles, GMB posts, videos, photos) with a simple, repeatable system.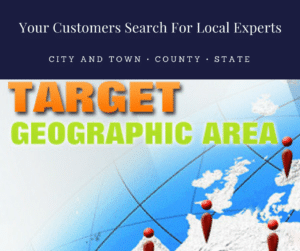 Google My Business produces the best results when you have:
1) Blogs posted on your website
2) Geo and keyword-optimized photos
3) Videos posted on YouTube
4) Relevant Posts on Facebook and media sites like Yahoo Finance (with content that links back to your website)
Why Is Google My Business and Maps Important – GMB Insights Example
I am going to share with you a few tips that will help your business generate a regular flow of new customers.
Let's start with the chart below. The chart shows over 100,000 monthly views for a luxury design/build business in NYC. At the peak, the views totaled almost 400,000 views in 3 months.
The reason this business receives so many internet views is their placement from Google searches for thousands of keywords. Their potential customers can find them!
This example is an exceptional result showing the potential for local businesses to make money online. It works for local companies in all categories, including real estate, home improvement, health care, legal, e-commerce, restaurants, and countless additional business types.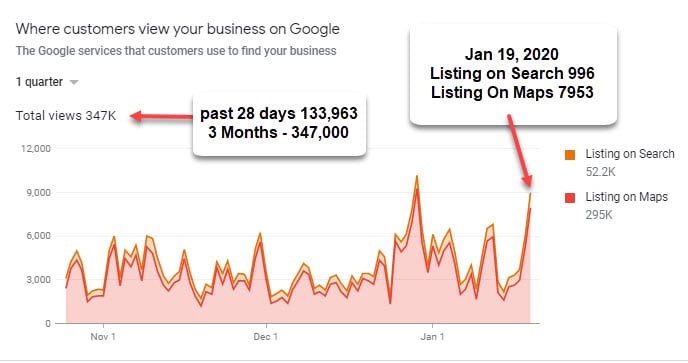 How to Generate New Customers and Profits from Google My Business and Maps
Let's use the business above as an example. As I mentioned, the client gets over 100,000 views per month. Many of the visits are from consumers searching many times before they make a purchasing decision.
The result is name recognition and trust.
This business has built a trusted brand in the local market. They are the "Go-To" company for their niche.
Luxury townhouse and apartment owners easily find this client from thousands of local online searches. Many of these NYC searches are from owners whose properties are worth $5 million to $50 million or more. Architects, designers, hedge fund managers, corporate executives, and museums also find them from their GMB listing.
Their clients find their GMB listing and hire them for projects not just in NYC, but worldwide. They became a global service business from their local GMB visibility.
The most important takeaway is Google My Business, and Google Maps helps build continual business visibility, recognition, and trust.
How to Optimize Google My Business and Maps for Hundreds of Keywords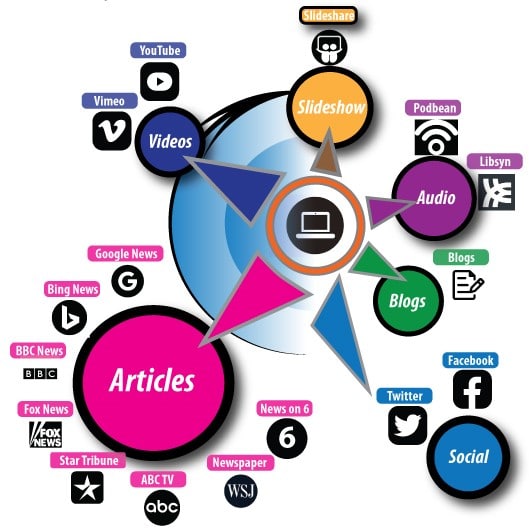 6 GMB Optimization Tips for More Results from your Google My Business & Maps Listing
These are the main GMB optimization tips that will help improve your GMB listing and maps.
Optimize Google My Business Photos – Upload real images with photos taken on your mobile phone. Be sure to turn on your mobile phone geographic settings. Google reads the latitude and longitude of your images. Photos with geographic data are a signal about where you provide a service.
GMB Posting with Questions and Answers – search your main keywords on a national basis and look for the questions people ask. Then post the Q & A in your own words in your GMB dashboard. Mention local areas such as neighborhood names, landmarks such as transportation, schools, streets, highways in the posts.
Keywords – Use your main keywords to describe photos before uploading to GMB. Use a different keyword description for each one. Use modifying words along with keywords such as price, cost, rates, discounts, buy, and sell.
YouTube Videos – YouTube is part of your Gmail and GMB account. Use keywords in your video descriptions. Also, write keyword-rich content and add to the description field of your YouTube Video. Create a link to your website and your map's location. Include your company name, address, and phone number (as it appears on your GMB) in the YouTube description.
Directory Listings & Citations – Citations include your company name, address, and phone number. Submit your business to directories such as Local, Foursquare, Yellow Pages, SuperPages. You can also post your Name, Address, and Phone number on all your social pages.
Media Citations – One of the most effective ways to get massive results is keyword rich media articles. We have found monthly content submitted to 400-500 media sources with your business name, address, and phone number produces fabulous results. Media sources such as Yahoo Finance, Morningstar, and USA Today are valuable, trusted authority sites for promoting your business. Articles about your company in these publications will boost your Google My Business ranking results.
Profiting from Google My Business and Maps
One of the most valuable things to know about Google My Business is the potential for unlimited visibility from keyword searches related to your business.
The more visibility you have, the more consumers see you online and more customers you will attract.
Keep in mind that your online exposure is like building a spider web. The bigger it gets, the more clients you will attract.
There are numerous signals to increase your GMB exposure. The six mentioned above will produce the best results. Just keep with it and keep building.
Google My Business and Maps Agency and Consultants
Niche Quest Media is a Digital Marketing Agency with a core focus on Google Maps and GMB Optimization.
We have extensive experience with hundreds of companies nationwide since the early days when Google first introduced Google Places. We provide strategic consulting and online business models for businesses from single to multiple locations.
Contact us at 203-762-1366.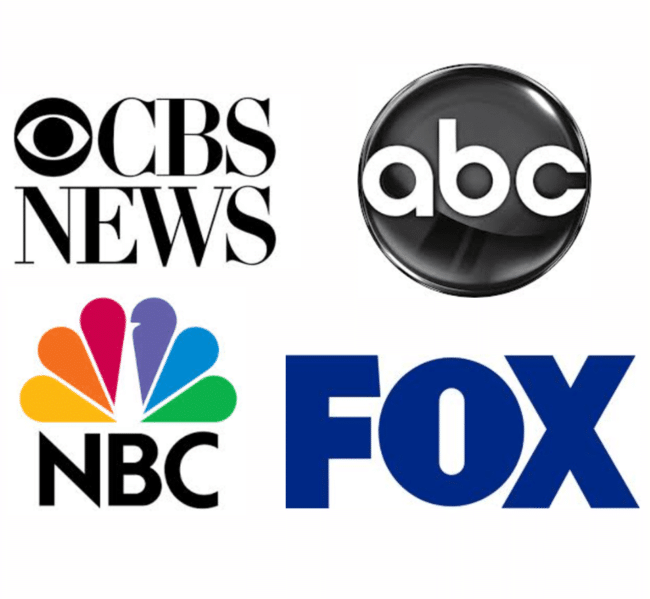 Latest posts by Edward Winslow
(see all)