Time to Amplify Your Business

Each Amplify Campaign creates 400+ high-quality digital assets & distributes them across the world's biggest websites. Each online property links to your website and drives traffic to your site for months & years. The more you do, the bigger the impact on your website's traffic and leads.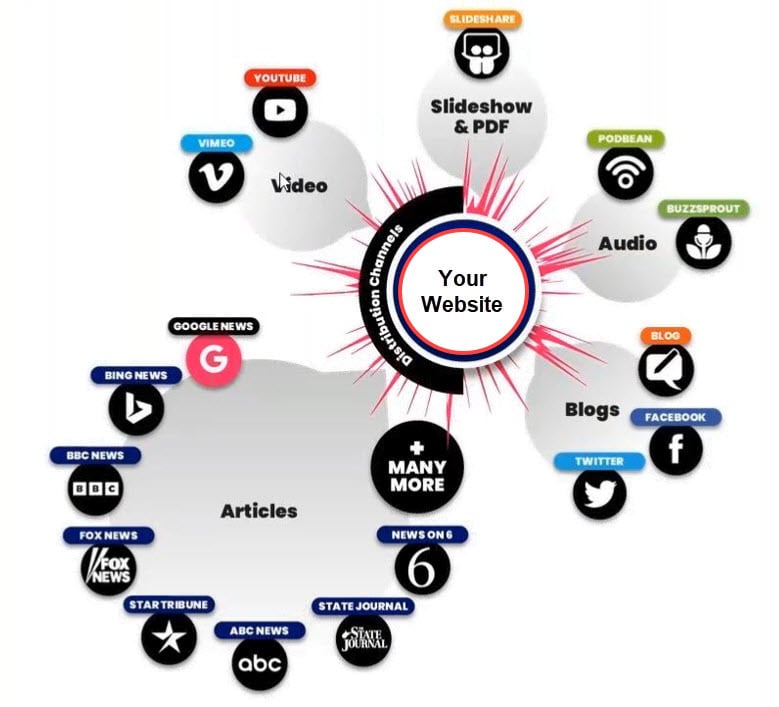 Results that Last...
All your articles, videos, slideshows, podcasts, etc. can send you traffic, but they can also rank in Google. Your videos can also rank in YouTube, and your slideshows in Slideshare, and your audio clips rank in Podcast directories. The more buyer keywords each property ranks for, the more successful your campaign. And...the more your potential customers see your brand online!

Our Client Reviews

Eds teachings and methods have been gold for my business. We've implemented his long-tail keyword and interlinking strategies on all of our websites and blog content and continue to reap the rewards! Eds got a knack for breaking complex strategies down so they are easy to digest, understand and implement. Listen to what Ed says and implement it, it will make you a fortune. Stuff he taught us years ago is still bearing fruit to this day, generating leads and bringing in real revenue into our business.
Ed Stapleton, Jr.
clicksgeek.com

As an entrepreneur, I was inundated by SEO marketing companies trying to sell me their expertise. In the past, I spent big money on website design and optimization programs with minimal results. In 2015 I was introduced to Ed Winslow of Nichequest. He rebuilt my website and trained me on how to blog and generate sales leads. My real estate business now organically ranks on the first page in the highly competitive New York City market. If you want measurable results in your local market Nichequest is the solution.
Mitchell Waldman

Loved it is an understatement. I hired Niche Quest to help a few of my agency clients. One client called me today, treats me like gold because he is now getting two prospects per day or 40 per month since January 2017 when he signed up for this SEO Ignite program developed by the Niche Quest CEO, Ed Winslow. My clients no longer worry about their Google Analytics, they are now counting money!
RIta Christensen
From time to time, we've all heard someone say, "If you don't talk with my friend, you're leaving money on the table." Never has that expression been truer than when it refers to my friend Ed Winslow. I've made a career of learning the most effective marketing and publicity strategies -- the ones that produce measurable, tangible results are not just nifty tricks that yield no value. Quite simply, Ed is brilliant and his clients are truly lucky to be working with him. I'm sure they appreciate the thousands of dollars in additional income that comes their way as a result of that collaboration!
Tom Martin
Schedule a Consultation Now!
Ready to amplify your website traffic & results? Contact us today to get started.....