Google Maps plays a vital role in increasing traffic to your business website. A business listing with Google helps you gain visibility in local search results and also in Google Maps.
If you've been searching your business name on Google Maps and it isn't showing up, it's likely due to a few common and explainable reasons.
Question: Why Doesn't My Business Show Up on Google Maps?
Here at Niche Quest, we find that when our clients experience this issue, it is due to a lack of ranking power in local Google search results or in the map itself.
If your business lacks citations, organic rank, and branding within search, this can lead to a lack of results in Google Maps.
Conversely, if you rank high in organic search results and have brand dominance across social media and search results, it's possible to find that your ranking power will often extend to your Google map listing.
Although this isn't always the case, when our clients contact us to find out why their business isn't showing up on Google Maps, it's one of the first places we check. Focused attention on the Google My Business listing and Google maps generally helps to bring the listing into view both in maps and in the map pack on Google's front page.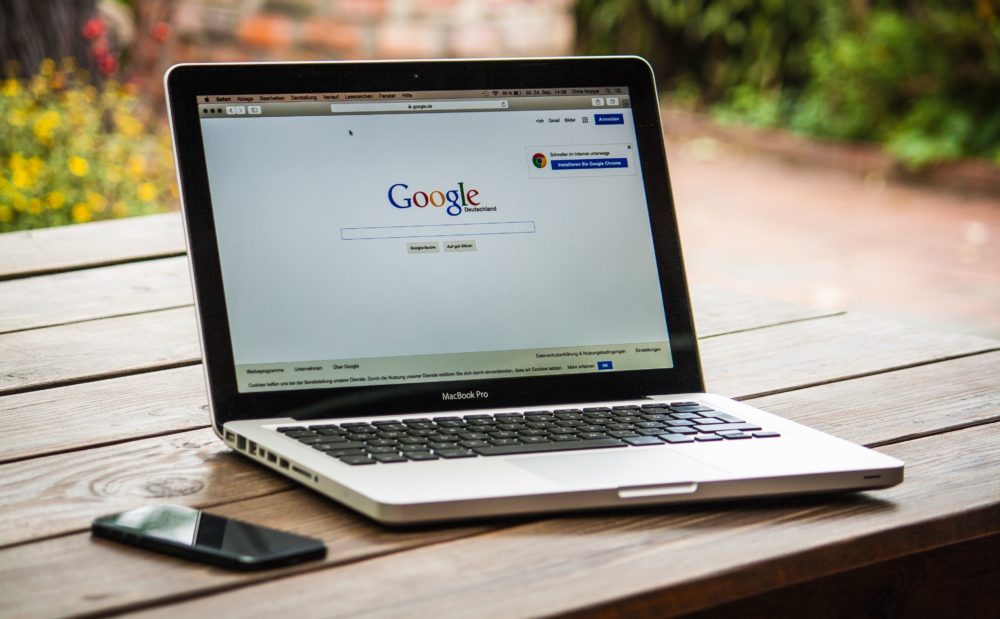 Top 3 Reasons Your Business Is Not Showing in Google Maps
Reason #1: Google Verification – Does your business have a verified GMB listing?
The first issue to check is whether you have a verified Google My Business listing. One way to determine its verification status is to do a search on Google Maps for your company name.
Go to Google Maps and enter your company name.
You will discover results like this listing below: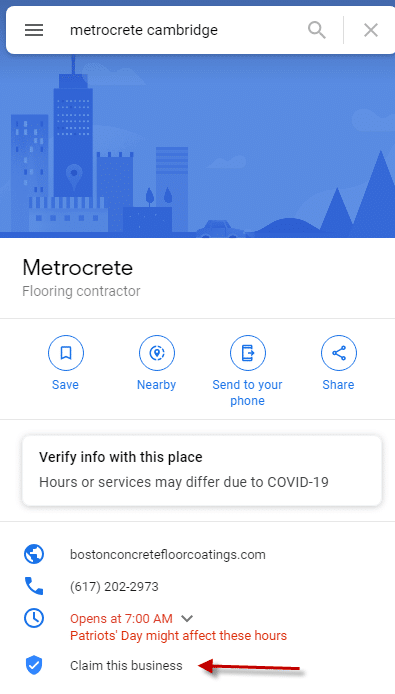 Notice the red arrow pointing to "Claim this business." If this phrase shows on your Google Maps search, it means it isn't a verified listing.
So, in this example image below, this business owner does have a verified GMB listing, but they do not have a verified Google Maps.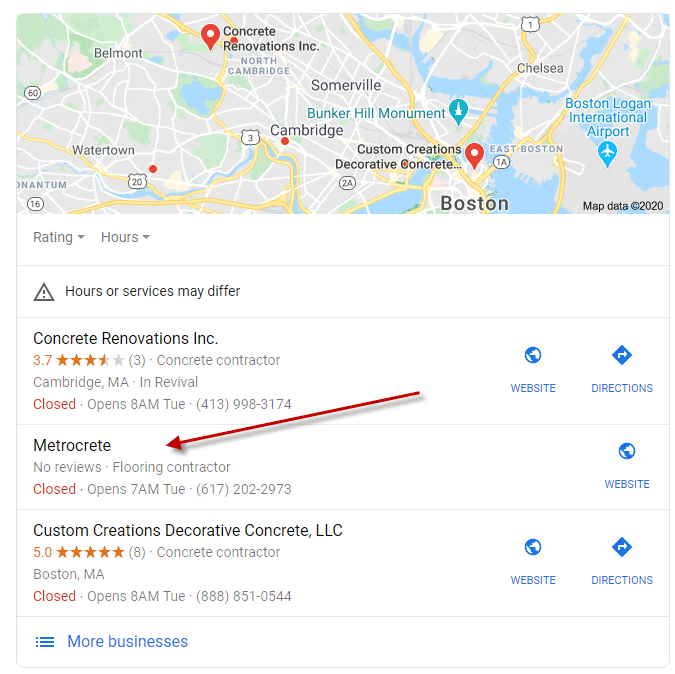 Verified & Non-Verified GMB Listing Differences
Can you tell the difference in the two listings above? Although the business displays in Google Maps and GMB listing, the "Own this business?" link in the Google maps profile is a red flag that the company doesn't have a verified map listing.
What that means to the business owner is that their listing, although in the maps results, will probably not show up when potential customers search in their local area.
Common Question: How Do I Verify My Business?
Without verification, your business will not be eligible to appear in Google Maps local search. If your competition does have a verified listing, then it will push your unverified listing so far down in results that it is highly likely it won't show up at all. Unscrupulous competition or other individuals may also try to claim your business in the listing so they can use it for other purposes. That's why it is vital to claim your listing and verify it as soon as possible.
Business owners can start the verification process for the Google Maps listing by clicking on "Own this business." Google will then send a postcard with a code to the listed business address for ownership verification.
Reason #2: Your Business Lacks Ranking Authority
Having a verified listing is essential, but pushing your listing to the top of the maps and Google search results requires additional steps. Of course, non-competitive markets may find examples of businesses that do show at the top of search results without any effort.
But in major metro areas and highly competitive niches and industries, a company may appear on pages 2, 3, or 4 for their highly-valued keyword phrases.
What do these businesses lack for successful results in the SERPs? Ranking power plus authority in their local markets.
What does this mean in simple terms? It means that when someone is near your business (on their cell phone), they will pick up your listing when they search. As they move away from your location, they will no longer find your listing.
As your listing gains ranking power and location authority, therefore, your business shows up in results further away from your business locale.
Ideally, your business will rank in areas far from your address so that you can reach a broader target audience in search results.
How Do you Rank Higher in Google Maps?
Ensure the information about your business online is accurate and consistent.  That company information, also known as NAP data, includes:
Business Name
Address
Business Phone
Website URL
The above information must match your GMB listing exactly. If your business is ABC Company, then list the company name as ABC Company, not ABC Co.
Same for your street address. If your GMB displays your address as 123 Main St, then ensure each instance on your website, and anywhere online uses only 123 Main St and not 123 Main Street.
View the example below. This client's name, address, and phone matches across multiple platforms online, including their website, maps, and GMB listing along with Yelp, Houzz, and Facebook.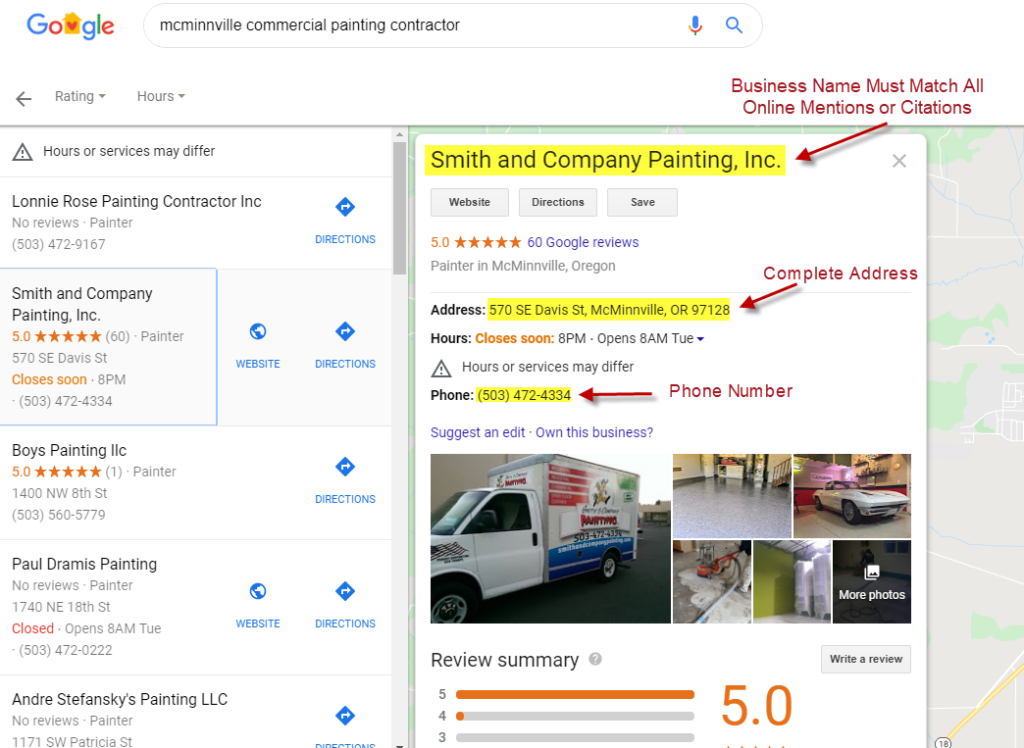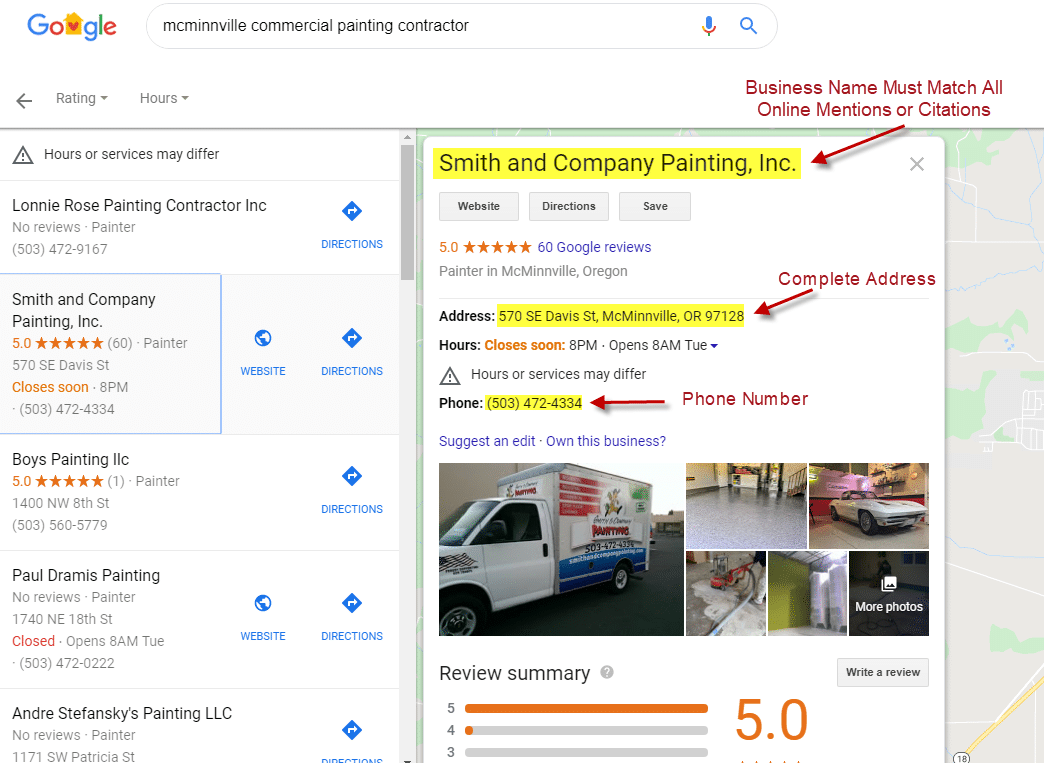 Online Citations Help Local Businesses
Citations on third party sites are just as crucial to your company's presence online as backlinks are for organic search position. They give brand authority and awareness that will help you gain the ranking power and location authority you need to dominate the Google Maps listing.
Examples of business citation sites include:
Also, industry-specific citations on sites for specialized services are helpful such as findlaw.com for attorneys or houzz.com for contractors.
Reason #3: Your Google Listing is Suspended
When the worse possible scenario happens to a GMB or maps listing, it can send business owners into a panic! We've had business owners call us with all urgency to help them with a suspended listing.
When a GMB suspension occurs, the business no longer shows up in search, the GMB 3-pack, or maps. Any successful rankings also fall away.
Google My Business suspends listings for a variety of reasons, and it isn't always apparent at first glance why a listing suspends.
Common reasons for GMB suspension include:
Business information edits or updates that require Google to verify the info.
Google questions whether the location is valid or listing is real. They want physical proof such as rental documents and pictures of the office.
Keyword stuffing in the listing or fake listing for lead gen.
Use of virtual offices or post office boxes
No physical business location.
Calling Google for help can often be challenging. Try to contact them directly from your GMB dashboard. If you have a GMB suspension and need help, please reach out to our team for assistance.
We've helped multiple business owners with pulling their GMB listings out of suspension. If your business is no longer showing in Google maps or if you don't yet have a GMB listing, please contact us today (203) 762-1366.
Latest posts by Caroline Vega
(see all)