To successfully build your brand and dominate your market, you need a local SEO strategy for your site.
By local SEO, I'm referring to your plan for content marketing on Google and social media, including Facebook and Twitter. Success on these platforms means you'll dominate your market and ultimately go national with your website.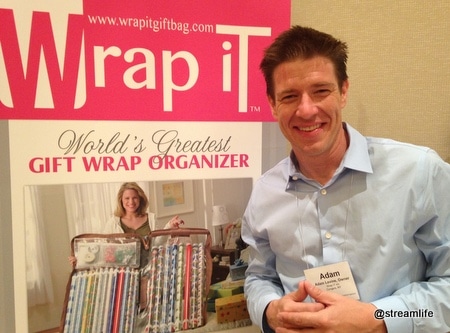 I'm going to walk you through the process as I explained to Adam Levine, an entrepreneur and inventor of Wrap It Gift Bags, who you can see in the image at left.
Adam is a leader in the organization business with over 10 appearances live on nationally-televised QVC. Adam provides business coaching to local organization professionals to help them build their brands and generate new clients.
You can apply the following steps to any business, no matter whether it's a local gym, law practice, natural health practice, home improvement business or any of a few hundred local niche markets.
Eleven Local SEO Strategies for Professional Organizers

Step 1: Mind Set – If you haven't read our blog about creating your business mind set, you should. It works. You need a plan that you follow every day.
Step 2: Client Value – What is the value of each client? What is the cost of the services you're offering? How many do you need to sell to reach your goal?
Step 3: Target Client – Who is your target client? What are they willing to pay?
For example, if you're in Greenwich, Connecticut or Beverly Hills, California, you can charge a ton. If you're in the middle of Nebraska, it might be harder to find homeowners willing to pay your organizing fees. However, everywhere there are businesses who will pay for Organizing Services. You need to think about your market and target customer.
It only takes a few minutes to do the research you need to find what your target customer wants.
Step 4: Tools You Need – I suggest a WordPress website with blog if you don't already have one. You need a Facebook and Twitter page. You also need to set up a free Google My Business account. With your Google My Business account, you will be able to set up a YouTube Channel. I'll explain how to set up these tools properly in another post.
Step 5: Content – The main purpose of this blog is how to create a local SEO content strategy that will rank on Google. It also becomes a critical part of your social media strategy.
This is important. You need to align SEO and Social Media. They feed off each other. Google is a robot that learns the best information to promote based on consumer behavior. They analyze what and how people search. They analyze the clicks and the pages they click to on websites. Then, they look at how much time visitors spend on web pages and where they click throughout a website.
Google also looks at websites that link to your website. What is the quality and relevance of sites that link to your website? How many websites link to yours?
The more high quality websites that link to yours, the higher you will rank on Google.
That's only one of the factors Google uses.
They also look at the content of your website along with the keywords and keyword phrases you use in the content of your web pages. So, it's important to learn from Google how to create your social media message.
Step 6: Developing Your Content Strategy – Where To Start? Google, Facebook, Twitter, YouTube, WordPress, these are all tools to use to communicate your message.
The tools aren't enough. You need to create the content that connects with your target clients. Just knowing how will elevate you high above your competitors. It's the content that will enable you to dominate your local market.
Then once you start dominating your local market, you will naturally start to expand nationally.
Step 7 – Using Amazon to Get Content Ideas
Let's take a look at Amazon for content ideas.
This will enable you to develop the best content for your local or national market based on topics with proven demand.
---
If you've gone through steps 1 to 11 in this post, you will achieve results. The most important part is to take action today while the information is fresh on your mind. The sooner you start, the quicker you'll take build your brand and gain new customers for your business.
Small business marketing veteran, lead gen expert and founder of NicheQuest Media, Ed Winslow is on a mission to help small businesses position themselves online in order to reach customers searching for solutions and services.
Latest posts by Edward Winslow (see all)