You need to buy the domain, but the combination of a simple website, a .NYC domain name and Google my Business will reward you with huge returns on your investment.
The reality is this. The world is going local and in the case of New York City, it's going hyperlocal. For example, if you trip and fall and chip your tooth at 14th Street and Fifth Avenue, you're not going to pull out your IPhone and search for dentists in NYC. You are going to search emergency dentists near Union Square or near 14th Street. That's hyperlocal and the dentist who gets your call is the one who ranks. With a .NYC domain name, that emergency dentist has an edge over all others (example – www.joethedentist.nyc ).
The bottom line is that a .NYC domain name is valuable and the new Google my Business tools validate that fact.. For local businesses a .NYC means more customers if you have the right strategy for promoting your business. 
That's where Google My Business comes in. Google has been nice enough to provide free tools that are changing the opportunities for businesses of all sizes. New business models are being created, new niche markets are opening up.
Good news for forward, open minded thinkers, bad news for those who can't change.
What is Google My Business and .NYC All About?
The image below is the first thing you see when you search google.com/business.
Notice the arrows, Be Found, Connect With Customers, Manage Easily. Google My Business combines Local and Hyper Local results with Google Maps, a Social Network, access to many businesses and Google Communities (you can make one for free), Google Hangouts (Free video), photo optimization, reviews and YouTube. Everything is connected, including connecting to your website. Plus you can easily access your Google Adwords account. Getting new customers couldn't be easier. Sort of like trading your horse for a Ferrari .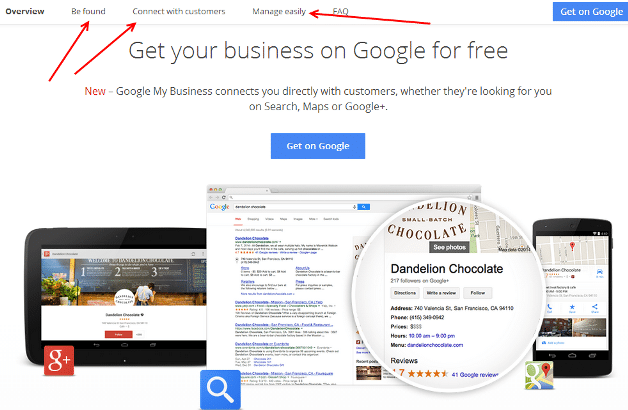 Now take a look at the 2 images below. The first one is an image from Google My Business page. The second is from the home page of nic.nyc, the official site of the new domain name. Interesting that both sites look like they were made by the same person, at the same time for the same purpose and audience. This is all about getting new customers folks. Whether you like it or not this is the new frontier for business. Either get with it or be gone, simple as that.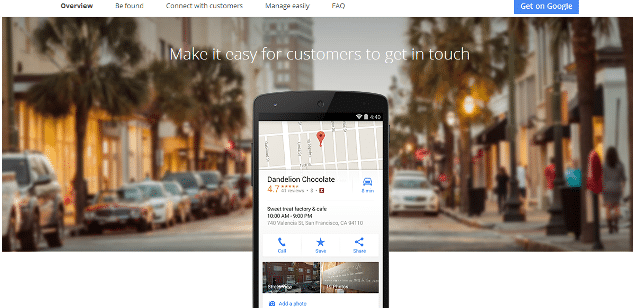 nic.nyc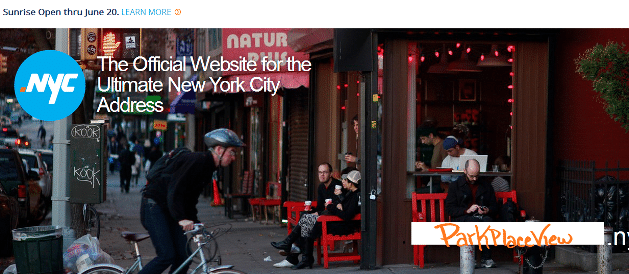 Here is an image from the Google My Business site showing some of the features. They give you social, photos of your business, video uploads. Just give it to them and they'll give you what you want. They are nice over there at Google. Generous group.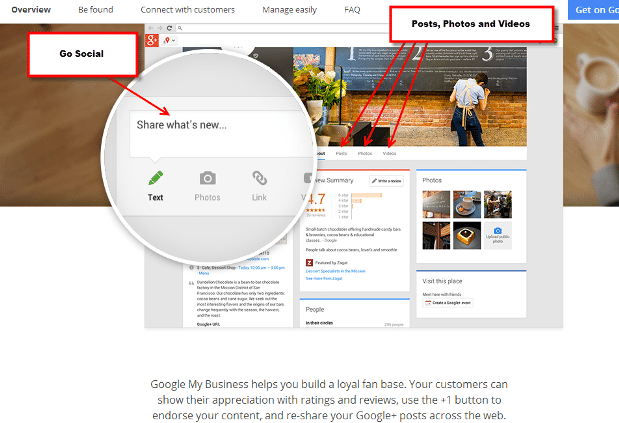 Here's an example of a hyperlocal search for furnished office space Midtown NYC. Notice the local results with reviews. Consumers can read reviews, click through to the Google + page or website. The consumer is in control. They can get what they want. Your job is to align your business with what your target customer wants. Thats what converts to sales.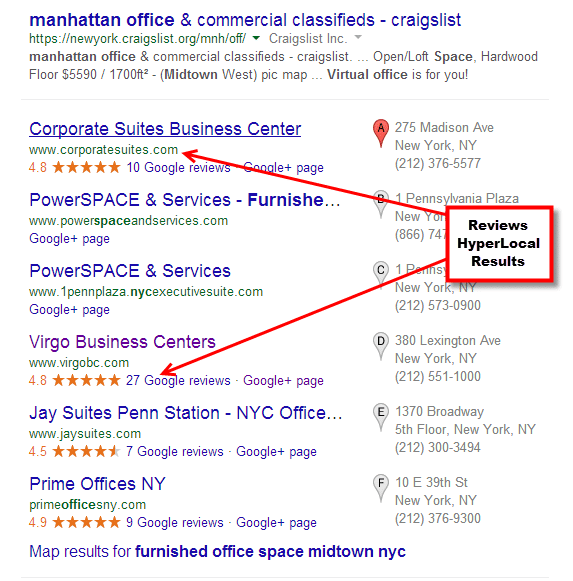 Now, when your potential customer does a search and clicks the Google + link, here is where they go. Notice how Virgo Business Centers has customized their page with a brandable image in left, plus all their contact info, link to their website and image of the lobby in one of their office centers in Midtown. 77,555 views of their business. That's what I'm talking about. How would you like to have 77,500 people searching for something very specific relevant to your business landing on your Free Google My Business page?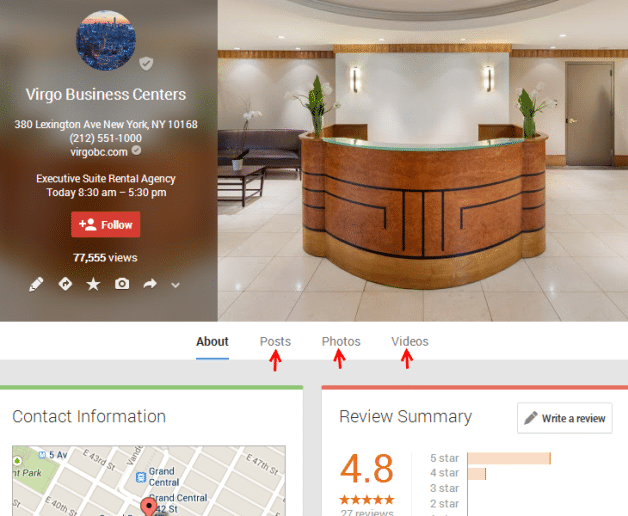 Not only can thousands of people see who you are, they can read customer reviews about your business. Take a look below.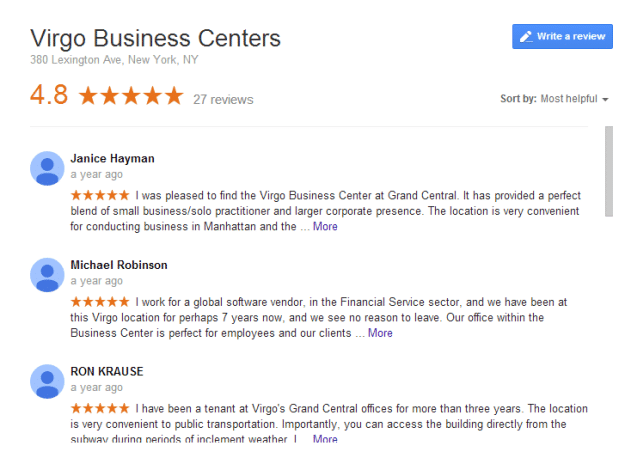 It gets even better. You can optimize your photos and get them ranked on Google Images. Wow. What a great way to educate your potential customers about your business before they even know you. I've seen it man y times with my clients. When a potential customer finds you online and they just click a few buttons, by the time they call you, they are presold. It's almost to good to be true, but this is happening every day for those who know how to use all these tools.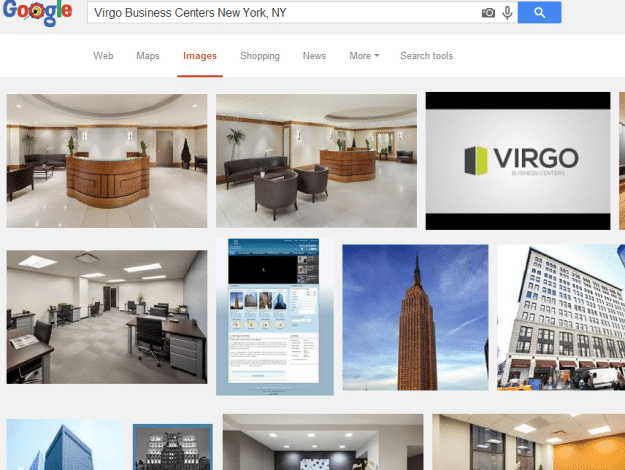 Using Videos to promote your business is very effective. Once made they are loaded to your YouTube channel and yes, it's free. There's a video creation tool Google owns called Animoto which is easy to create an animated slideshow. You can turn your photos into a slideshow, add content, music and upload to YouTube. You can also create your own videos, do interviews, promote services and educate your prospective customers. And you can put your logo in the first frame. Excellent for local branding.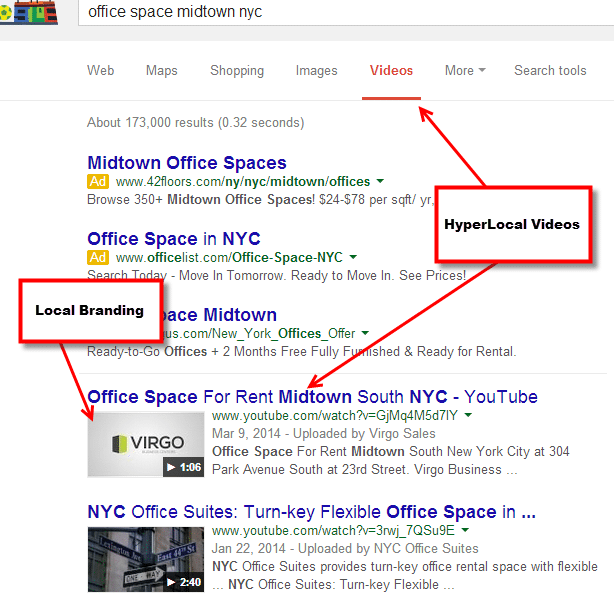 Local maps is another tool for promoting your business. It's really all about what you do and where you do it. It's as simple as that. If you are a New York City business (Manhattan, Brooklyn, Bronx, Queens and Staten Island) the combination of a .NYC domain name, Google My Business account and a website is a financial game changer.
If you need any help figuring all this out and how to get results, we provide a full suite of web development and Google Places setup, optimization and Pay per Click marketing and training.
Watch the video below and let me know how you like this update.

Latest posts by Edward Winslow
(see all)