National Small Business Week is here again! This Small Business Administration (SBA) annual event celebrates small business owners and entrepreneurs along with the important contributions they make to the economy. Not to be left out of the celebration, search giant Google decided to use the week to celebrate and thank the "the dreamers, doers, shakers, and makers" in its own unique way.
There's no doubt that small businesses play a vital role in the United States economy. According to the SBA, more than 50 percent of the entire American working population is involved in some way with small business activities. They either own a small business or work for one. In fact, two out of every three new jobs come from small businesses. To help boost small business success even further, Google announced the launch of the Google Small Business Community and a new Google Helpouts page for small business owners. These sites are expected to enhance networking opportunities and make useful information easy to access.
Small Business Week and Google Communities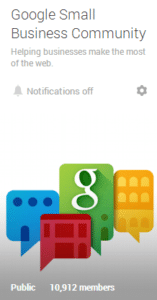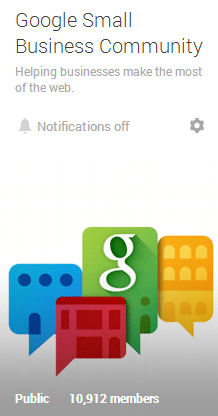 The Google Small Business Community operates on the Google+ social network. It is a wonderful place to make new business connections and share business ideas. The Community is free to join and the number of members has steadily increased since its launch.
Check out the community events from May 12 to May 16 for special messages including one from President Barack Obama. The site also plans to feature useful tips from top businesspeople across a range of industries. Already, business owners are introducing themselves in the community using a variety of hash tags such as #SmallBusinessWeek, #SmallBusiness and #SmallBusinessOwners. You'll definitely want to use one of these hash tags in order to improve the visibility of your business and engage other small business owners in the process.
Even after National Small Business Week, the community will continue to be the source of helpful information. According to the blog Google and Your Business, training ideas such as daily and weekly posts, series and training will come from what business owners decide they want to learn. Googlers and an advisory team will also be available to handle all your questions.
Helpouts Page for Small Businesses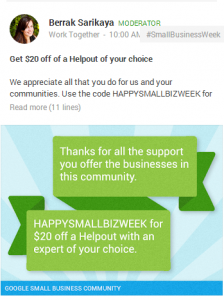 The Helpouts Page provides an avenue for small business owners to access individual consultations with business experts. These consultations will take the form of video calls. There are expert advisors on a variety of business topics including web design, online marketing, WordPress, bookkeeping and branding.
While there are plenty of Helpouts offered without any charge, you will need to pay to have access to expert opinions in others. Identifying free Helpouts from paid ones is easy. Rates are clearly posted and differ based on the expert offering the consultation. Some sessions use per-minute rates while others charge flat rates. Additionally, Helpout rates may also depend on the level of individual expert's skills, which you will find outlined in the session description. If you join the Google Small Business Community between May 12 and 16, you'll also be eligible to get $20 off a Helpout of your choice.
Latest posts by Caroline Vega
(see all)