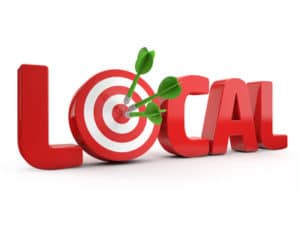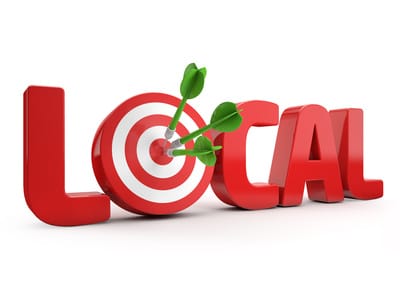 SEO definitely helps your website bring in more sales, but going local with Google Places can make all the difference in your internet marketing strategy.
By its very nature, search engine optimization brings in more traffic to your website. But the ultimate goal of SEO strategy is really to target your audience so that they visit your website and then take the action you want them to take once they arrive.
You may have the biggest audience in the world, but if they're not interested in your products or services, than SEO isn't going to help you one bit. The action you must take is to come up with concepts that are relevant to your potential buying audience, create keywords around those concepts and then place them within your website. Those small changes in focus will help you draw in the right kind of traffic that's motivated to take the action you want.
Optimize Your Website for Local Search
You probably wonder what actionable steps will make the most difference when trying to achieve search results. A great start for every business interested in improving their website traffic is Google Places.
Why Google Places?
Google Places for Business offers something that few online sites provide – action tracking (such as how many people visited your listing), map clicks with directions and data about how many times your listing shows up in search results. Places gives businesses the option to add coupons, offers, images and videos to make listings come alive for potential customers. There's also a "place" for customer ratings and client references as well. And, Google isn't the only site offering a specialized listing for businesses. Yahoo! Local and Bing Local are also entering this arena by offering their own versions for business clients as well.
How to Use Listings on Google Places Effectively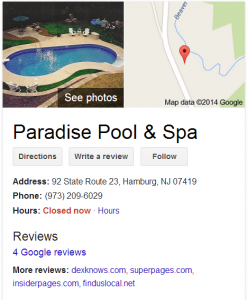 Want to know if you're included in Google Places? Simply search for your company name and include the name of your city. For example, if you are a pool & spa company in Hamburg, New Jersey, search for "pool & spa in Hamburg, NJ" to view the search results (see photo at right). When you hover over the results, the column on the right side of the search results in Google displays company information so that you'll quickly know if your local data is optimized within that keyword selection. If you are not showing up for local keyword terms, then it's time to focus on updating your Google Places listings to get the most out of your listing.
Also, categories place an important role in helping potential customers find your business. Choose the right categories for your company since you may only add a total of 5 to your Google Places listing. Also, review your competition to find out where they are ranking in search results and see how their category listings compare.
On your Google Places site, include as much information about your business as possible. Keeping potential customers up-to-date with your store hours, phone number, email, website address, videos and coupons not only builds trust, but it ensures that they always know where and how to reach you. Google Places allows up to five videos and 10 pictures.
Ask for Reviews
If you are lacking business reviews on Google Places for Business, ask your best customers to leave a brief description of their experience with your company. You may also want to have them stop by Yelp or Merchant Circle to leave reviews on those sites too. You could even create a special offer for extra discounts on return visits for customers that leave a review. Don't be afraid to ask for customer testimonials. You want prospects to completely understand the product or service you offer, but you don't want your page to be all about your sales offer. Let them know right up front what your customers think about your offerings.
Combine SEO Strategies for Better Results
Consider pay-per-click advertising as an additional source to combine with your search engine optimization strategies. Target your local region in your pay-per-click ad so that it matches your SEO goals for local traffic, and you'll ultimately find that you bring in more traffic with this hyper local targeting using paid and organic internet strategies.
Here at Niche Quest, we talk alot about SEO, but more importantly, our blogs, courses and ebooks teach you to focus your website optimization on going local. The Niche Quest Formula method shows you how to optimize your website for local search because this is the one area where you can bring prospects to your website before they find your competitors first.
Learn more about how about internet marketing strategies that really work by using the Ultimate Beginners Guide to Internet Marketing. Watch our roadmap video below. After you review this step-by-step guide that includes a visual, an eBook and videos, you'll have everything you need to get the internet marketing results you need to rank your business website.
Latest posts by Caroline Vega
(see all)