Many of you know that I specialize in building local business formulas for my clients online.
Early in my career, I was very fortunate to work for 2 enterprising real estate entrepreneurs in NYC who developed a step-by-step local business development system.
The plan was simple, just focus on defined local markets and become the local expert. Recently, they sold their business for a reported $100 Million. This formula works.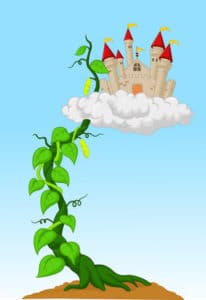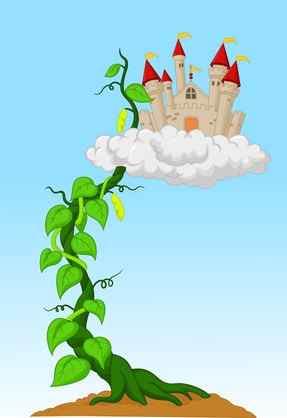 Most commercial and residential real estate companies, like Keller Williams and CBRE, have built massive businesses based on a variation of this formula. So have companies like Home Depot and Starbucks.
Ten years ago I started implementing this formula online. It's not just for the real estate business. It's for every business.
Remember the story of Jack and The Beanstalk? Once you know the formula, your business is like planting the magic beans. It will grow and grow.
Let's take a look at an example.
Smith and Company Painting – The New Local Millionaire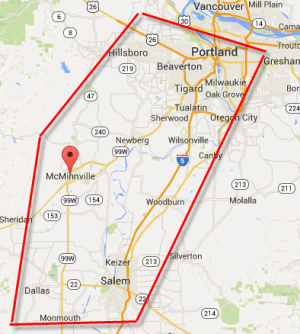 Let me introduce you to Parker Smith, owner of Smith and Company Painting from McMinnville Oregon. McMinnville is a small town in one of the most beautiful areas of the country. Lots of local wineries, hunting, fishing and skiing along with solid, down home folks, the type that make America great.
Parker was referred to me by a client in Colorado. At the time, Parker had taken over his father's local painting business. He was looking for ways to get more customers.
As a small business owner, he was doing everything himself. If you've run your own business, you know what he was going through. Getting jobs, doing the work, paying bills just like every small business owner.
Over the previous 5 years, Parker had 2 web sites, neither produced any business. He recalls that he might have received one small lead. He was struggling to grow.

Smith and Company Challenges – The Entrepreneur's Dilemma
The main challenges Parker faced was getting consistent and larger leads. In the McMinnville area, the average home is 2,500 square feet with the average project being $3,500.00. Each house painting project takes about 1 week with a short 7 month season due to weather. If he was to get the same job every week and keep the schedule full, that's about $100,000.00 in gross revenue.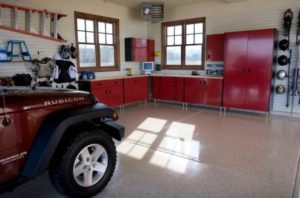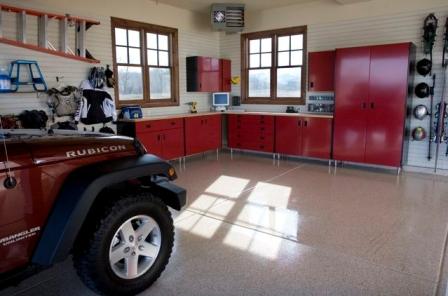 Right around the time we started working together, a new market emerged in the residential market. People started resurfacing their garage floors with epoxies. New technologies in the coatings market with ultra fast dry times enabled garage floors to be completed in 1 day.  The cost for coating a garage floor is in the ballpark of $3,000.00 with higher profit margins than painting houses.
Plus, these are interior projects with a 12-month season rather than 7 months.
The difference in profit potential is significant. Imagine if Parker could get 2 projects per week for 12 months (with 40% margin) vs. 1 painting project per week for 7 months with 30% margin.  The difference is $120,000 vs. $30,000. The question is, how does he get these clients?
The Importance of Knowing The Value of a Client
In this scenario, a client is worth $1,200 (net profit) for floors vs. $1,050 for house painting but with a longer season and quicker projects.
How to Attract Those Elusive Buyers
What we came up with was to create a website to promote both house painting and epoxy floor coatings for garages.  And, we took it a step further. We looked at the local market and the capability of Smith and Company. We researched niche markets within the Smith and Company business. We evaluated keywords customers search for and where. We analyzed the local towns. Then we analyzed the competition in each town to evaluate how hard it would be to rank on Google for specific keywords by town.
Here are a few questions I asked
These became keywords Smith and Company ranked for on Google in various towns that produce new customers year round.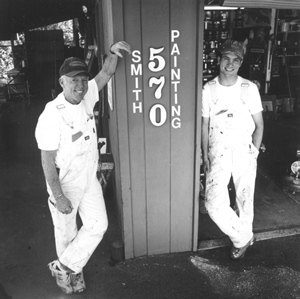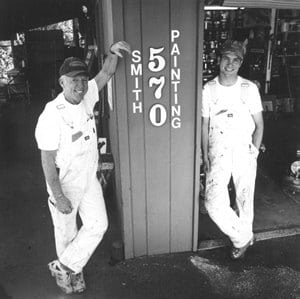 How far will you travel?
Do you paint interiors of homes?
Do you paint bedrooms?
Do You paint Kitchens and baths?
Do You paint cabinets?
Do you apply epoxy paint to garages and basements?
Would you paint a restaurant?
Would you apply epoxy coatings to commercial kitchen floors?
Do you paint industrial buildings?
Do you apply epoxy to industrial building floors?
Do you paint barns?
Do you paint retail stores?
The list of questions goes on. You see, what I want to find are specific keywords people search and where the customer is located. Then, we want to rank on Google for specific keywords people search that will convert to profitable business.
What we found was a market from Salem to Portland Oregon. Salem has 250,000 people, Portland is a metro area with 4 Million people. The goal is to help Parker reach large markets with the right kind of services. The goal is to position Parker's business for online searches for the right keyword at the right location.
For example, it doesn't make sense to get calls from Portland, 45 minutes away, to paint cabinets for $1,000. But it does make a lot of sense and profit to do a 2,000 square foot floor with an industrial epoxy in a commercial kitchen for $12,000.
We determined that Parker's business should rank for house painting projects within 20-30 minutes of McMinnville and concrete floor epoxy projects should rank on Google within a 45-60 minute drive.
Examples of local searches
• House Painters in McMinnville Oregon – Search term produces $3,500 house painting jobs
• Epoxy for commercial kitchen Portland Oregon – search produces $10,000 – $15,000 jobs plus commercial painting for another $5,000 – $10,000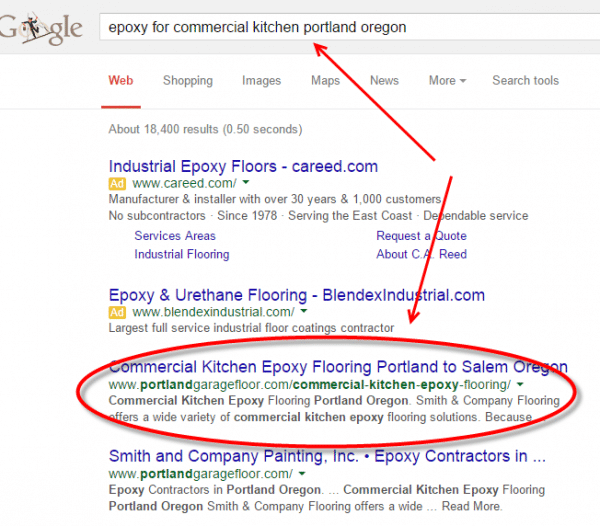 How Did The Strategy Work?
The result was extremely profitable. It took about 3-4 months before the first leads came in. Then they started to come in consistently.
At first, the projects were typical house painting jobs with volume increasing every month. But the good news was that garage floor projects came in too.
As an added bonus, leads for larger, commercial concrete epoxy projects started coming in.The problem initially was the conversion-to-sale was low for the high ticket commercial projects.
We determined the website portrayed an image of a small house painting and garage floor epoxy business. The good news was profits were up significantly. Projects were coming in at a consistent rate, exactly the kind of projects Parker wanted.
How We Adjusted the Local Business Plan Based on Internet Demand
The plan was working with more and more leads coming in. But how would Parker cater to demand and capture the larger commercial projects?
The solution was to create a separate website specifically for epoxy coatings with an emphasis on the garage floor market.
It worked! Lots of garage floor leads came in and so did larger commercial projects. After a year, we determined the website needed another adjustment.
This time we changed the website appearance to portray an image of a large industrial epoxy business. We also changed the keywords and the geographic focus. Since the demand was in the larger areas, we focused on Google ranking in Salem and Portland plus a few select smaller towns in between.
The result was more commercial and industrial leads with increased conversion to sale.
The New Local Millionaire – Next Phase
In a few short years Parker has taken his small painting business into a whole new dimension. Revenue climbed from $100,000 to $700,000 and is increasing rapidly. A new phenomenon has kicked in big time. Word of mouth.
Now repeat business and word of mouth are generating higher quality projects including luxury home and industrial painting in addition to more sophisticated commercial flooring projects.
Though the internet has been a big driver of this growth, Parker has learned along the way how to systemize his business and manage this extreme growth.
Parker started working with a consulting company that helps small businesses systemize their operations. The company based in Philadelphia, Summit Services, works directly with Parker every week plus bi-annual workshops with other Summit Members.
The goal? Create sustainable businesses that run themselves. Parker is learning how to create in-house systems that can be replicated and scaled. Simultaneously, we are working on Google rank for new niche keywords within his target geographic target while expanding into not just floor coatings but commercial and industrial painting.
One big market for expansion is into the food and beverage industry with a combination of floor coatings and industrial painting. That means hiring sales people and more employees to do the work.
Recent Leads to The Next level
A recent phone call from an internet search for Industrial Epoxy Contractors Portland Oregon was from an entrepreneur with a growing auto dealership in need of a new showroom floor.
That led to the first project with this new client. Then they needed the exterior of the commercial building painted, then the interior, then the owners house.
That initial call led to a meeting with the owner's interior designers who operate a 10-person shop specializing in luxury homes and commercial interiors.
All from a single internet call. Amazing how one keyword can change a life.
How Compound Interest Becomes The Local Millionaires' Ultimate Tool
It's not the business that becomes the ultimate wealth machine. It's developing an investment strategy with compound interest over time. That's where the wealth comes from.
Certainly, without the internet, Parker would not be able to get the projects for growth. Without the help from Summit Services, Parker would not be able to systemize hist business.
But, by reinvesting his profits every year with an 8-10% return, he will be able to amass a net worth of $5 – $10 Million dollars over the next 20-25 years.
Parker reinvests his profits in 2 ways. First he reinvests back into his business yielding an extremely high rate of return of at least 100%. Idle cash is reinvested in a conservative long-term growth strategy yielding 8-10%. The way I see it is Parker is not building a painting business. He's building a finance business.
No matter what business you are in or are thinking about getting into, start by creating online assets that produce revenue. Then work on systemizing your processes and reinvesting in a compound interest program. That's how you will become the next Local Millionaire.
Need an online plan for your business? Contact us by Clicking Here.

Latest posts by Edward Winslow
(see all)