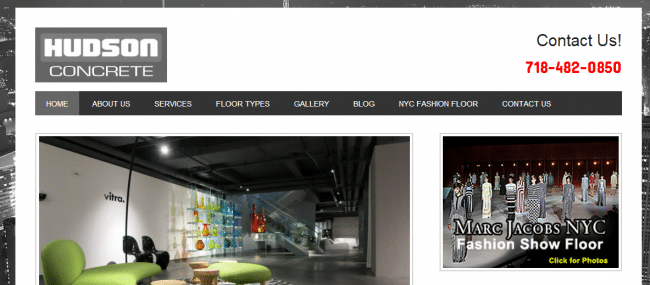 Websites for Decorative Concrete Companies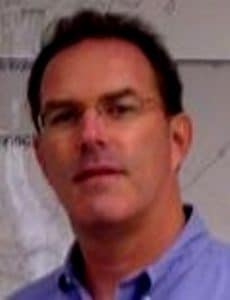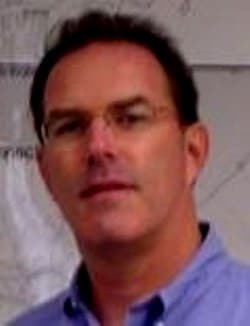 Websites for decorative concrete companies that rank on Google with the right strategy produce insane leads. Most of my clients don't believe me when I tell them what they are missing. It's a nationwide phenomenon in the United States and likely on a global basis.
Not only are the leads life changing for many companies, the leads are very different then you may have experienced. They are quick. Many people search online and are ready to pull the trigger immediately.
Lets look at a few examples of Websites For Decorative Concrete Companies
Concrete Poetry – www.bostonconcretecountertops.com received a call from a search by This Old House television show. Concrete Poetry was filmed fabricating a countertop in a Boston area home. Show was aired nationally. Without the exposure online that call would never have come in.
Hudson Concrete – www.hudsonconcretepolishing.com Call came in on a Monday to install flooring for runway for New York Fashion week floor. Floor installed starting Wednesday, completed Saturday. Top fashion companies from around the globe sat watching the models on the decorative concrete floor totaling 5,000 SF.
Elements Concrete – www.marylandconcretedesign.com gets call from an online search for 3,500 garage floor in massive home. Leads to larger project and relationship with architects, designers and influential owner of retail shopping centers.
JW Construction – www.sussexcountyconcrete.com Stamped concrete company in Sussex County NJ. After spending over $10,000 on non producing websites, takes NicheQuest Formula course and now dominates his market online. In 25 years never saw the quantity and quality of leads that internet produces.
Smith and Company – www.portlandgaragefloor.com Portland Oregon – Small Painting Company gets feet wet with entry into the garage floor epoxy market. Starts off getting small garage floors 500-1.000 SF. 2 Years later getting a consistent flow of commercial inquiries ranging from $5,000 – $125,000 projects. Internet leads are producing tremendous word of mouth leads. One feeds off the other.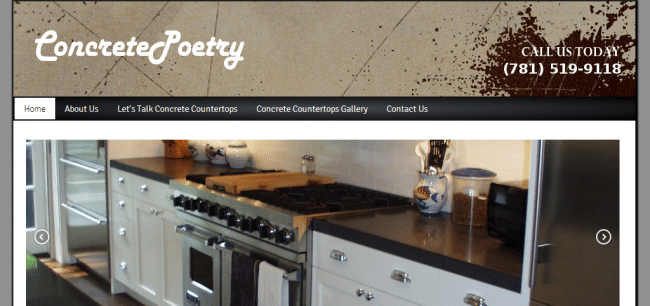 These results for websites for decorative concrete companies are not random. Each one of these companies and many more get high quality, business changing leads from internet searches every month. Not all calls are winners, but the overall result is life changing for those who want to work hard and succeed.
The key to success online is the right strategy. One or two well ranked keywords will not produce these kind of results. You need lots of search rankings. It starts with what do you do and where do you do it? A combination of well written web pages, blogs and inbound links from quality, relevant sources are what produces. Websites for decorative concrete companies start with a business plan. Then keyword research, content followed by the website.
Fancy websites for decorative concrete companies are not required. They need to be clear and concise, easy to navigate with good photos. Once the foundation is built, your internet marketing can expand with the core formula. Photo optimization, YouTube video optimization, Google and Facebook posts with links to relevant pages following the NicheQuest Formula simply works.
Step 1 is to get out a map. Then draw a circle around your office with a 20 mile radius. Each business has a different strategy depending on what they do. Some markets need a larger geographic reach, others very small. The idea is to dominate your market online. But be realistic about your capabilities. Don't over reach. Start with a manageable plan, get results, then replicate and expand your exposure. The market will tell you what it wants.
Websites for Decorative Concrete Companies – Get The Free eBook
Looking for leads or websites for decorative concrete companies that produce insane results? Grab your Free copy of the formula at top of the page. See you on the other side.

Latest posts by Edward Winslow
(see all)