Supercharge Your Business With Simple Videos
I've been experimenting with videos for 5 years trying to figure out how to make them work for my clients. After much trial error and the inability to create filmed videos here is what I've come up with that you can apply starting right now. These videos bring in a ton of new clients and provide a valuable boost in rankings for your web pages, blogs and you can use them on your social media sites  too. They are awesome for every local businesses whether a plumber, lawyer, doctor or real estate broker and many more. Below I show 2 examples. If you scroll down the page, you will see sample rankings, videos and the step by step process I used to get these ranked.
New York City Office Space Provider
Spokane Washington Painting Contractor
First, I would highly recommend downloading the free NicheQuest Formula ebook if you haven't done so. This guide will provide a step by step road map to the formula we apply to get everything ranked on Google and works like magic with videos.
Lets take a look at Google rankings I was able to achieve for my clients.The videos are posted here too. Down below I list the 10 steps I use to creating the videos and getting them ranked.
Chewelah Painting Spokane Washington – recently I made 10 videos for them. Each video was created around a niche keyword phrase. The one below is Deck Staining Spokane Washington. Note the logo video and how he has position on Google #1,2,3. They also rank for at least 5 other search terms related to deck staining and refinishing. Combine with the other 9 videos and they dominate their local market.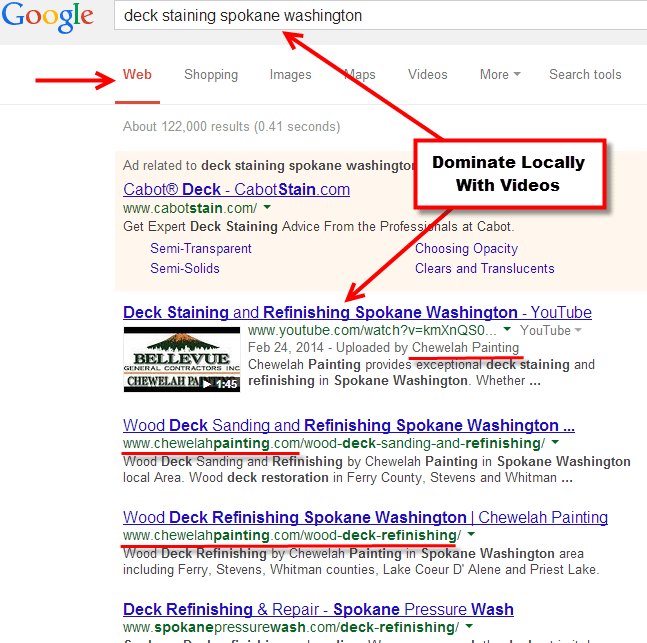 The NicheQuest Formula as you can see below enabled Chewelah to rank on the first line in Google Images for photos also.

Here's the Video. Note that the video Title has keyword and keywords are in individual frames of video. Fairly simple process.
Below are results from Google for Virgo Business Centers a leader in office space and conference room rentals in NYC. They rank at the top of a Google search in the videos category ahead of some very stiff competition.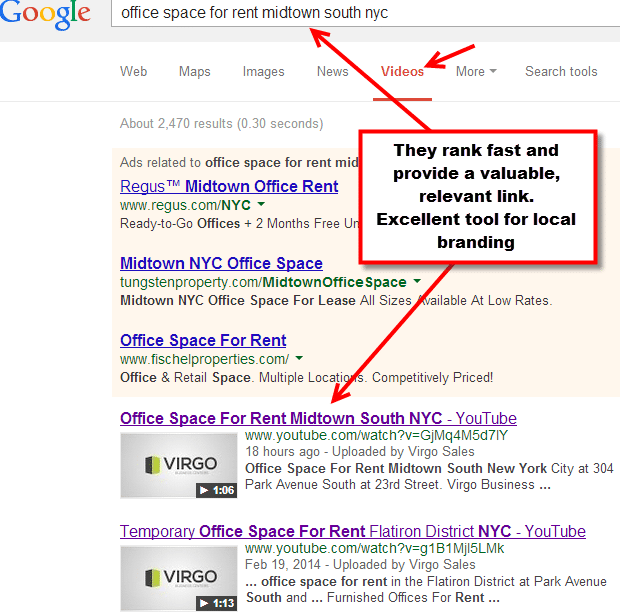 The video above I made with Animoto a very easy to use video program. I was able to make the video fast with zero video skills and get it ranked in less than 15 minutes following the steps below and applying the content techniques outlined in NicheQuest Formula.
Step 1 – Start with Keyword phrase to optimize
Step 2 – Organize 10 photos and 10 bullet points (total of 20 frames)
Step 3 – Logo – add to first frame and last frame . Last frame should include Citation and website
Step 4 – Upload 10 or more photos to Animoto
Step 5 – Add 10 bullet points describing your business service or product you are selling.
Step 6 – Upload to YouTube
Step 7 – Write 100-150 word description for YouTube using the target keyword phrase 1-2 times. Put Citation on Bottom
Step 8 – Write a Blog post targeting same keyword phrase 300 words is ideal. Add a photo and embed Video code from YouTube into blog Post
Step 9 – Publish Blog post. Then take blog url and paste below citation on YouTube description and click save.
Step 10 – Post Video and blog Link to Google Plus, Facebook, Twitter and Linked In.
Super Charge Your Business With Videos Tutorial
Let me know how this works for you? I am working on a tutorial that explains the process in more detail. Let me know if you want the tutorial that shows exactly how you can create 5-10 videos in 1 day and get them producing sales for you. If you grab your free copy of the NicheQuest Formula ebook, I'll email you with access to the video tutorial.

Latest posts by Edward Winslow
(see all)