If you're looking for content ideas to write about for your blog as well as meaningful Facebook and Twitter posts, this is for you.
I'm going to explain how I use Amazon to find content for my clients sites. I also discuss some basics about what makes a blog profitable including backlinks and the importance of keywords.
In the second half of this post I show a step by step process to finding exactly the content in demand by your website visitors and social media fans that will convert to sales.
There are 2,200 words here so it will take you 5-10 minutes to read through everything here.
Contact me or leave a comment at the bottom with your questions.
How to Use Amazon to Research Content Your Customers Want
If you've read my list of 101 Google Ranking Factors for Local Businesses you know that keywords and blogposts are critical for ranking at the top of Google.

But how do you choose profitable keywords and how many do you need to rank for?
In this post, I'm going to show you how I find profitable keywords for my local clients from Amazon.
What does ranking on Google mean?
You can rank #1 on page 1 of a Google search or #10 on page 10 or anywhere in between.
However, the majority of your potential customers will only call those companies who rank in the top 5 on page 1 of Google. Your customers search keyword phrases to find what they want. If you don't rank for what your potential customers search, then your competitor gets the call and you don't.
If you've never ranked at the top of Google and don't know what it will do for your business, consider this. One of our clients, Smith and Company Painting of McMinnville Oregon just got a call from a Google search that could easily be worth over $1 Million Dollars. It's a great story about how one internet lead opened the door to a lifetime of word of mouth referrals.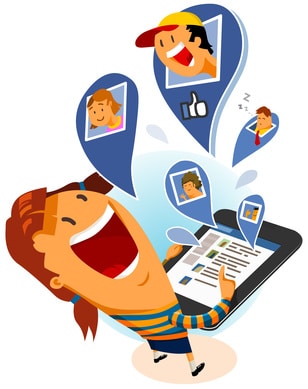 Hudson Concrete of NYC just got a $700,000 project from a Google search. That doesn't include a massive amount of word of mouth projects.
Powerspace and Services, a furnished office space company in NYC gets 100 calls per month from people searching on Google.
Cogent Realty of NYC is using their blog to attract companies who need office space solutions. The size of some of the leads owner Mitch Waldman is getting, from a consistent blog strategy, is proof that companies with multi-million dollar requirements search online.
Enforce Coverage Group, a workers compensation insurance agency, has developed an obvious but completely overlooked keyword strategy. Every blog post is a 24/7 virtual sales person who never gets tired. The leads come in 7 days a week.
JW Construction in Northern New Jersey dominates the Google search in his market getting 10 leads a week while his competitors are struggling to find work.
What do all these companies have in common? We created their keyword strategy starting with research from Amazon.
So how do you find the right keywords?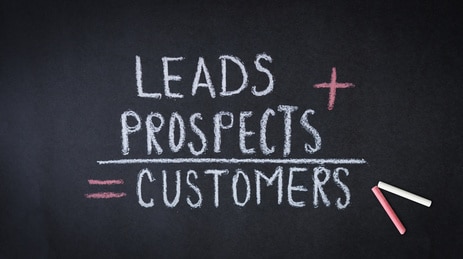 How Amazon Will Help Your Local Google Rank and Facebook Messages
One of my clients once told me their blog is like a drug. Every time they write a post they get a buzz of new clients. Then it slows down. Write another and more customers will come.
The best results come from consistent blog and social media posts. Once a week is ideal for most businesses.
If you have a local business , you're a writer or an agency, the #1 most important component is a content plan. That's where we all fail. As soon as we run out of content ideas, business blogging becomes difficult and we stop.
In this post I will show you a simple and easy way to find your content and keyword plan starting with Amazon that produces an endless supply of blog and social media ideas.
Take a look at the blog post I wrote that ranked on Google for 50 different keyword searches.  That blog post produced leads within 24 hours. You can do this too with the right plan for your business.

The key is to write one of those each week. That's what produces sales and builds a business.
If you write blog posts consistently, you'll dominate the local search rankings on Google plus create a powerful word of mouth brand using social media.
One of the biggest problems we all have is ups and downs of the business cycle. When we need a new customer, we race around like crazy trying to find a new client. Then when they come in, we're swamped servicing the clients and stop sales and marketing.
Need to take the sting out of lack of new clients? Consistent blog posts and social media updates keep those clients coming.
If you think you can't write blogs, think again. If you can send an email, you can write a blog. Creating sales producing blog posts is a skill that can be learned.
My plan is to provide you with the knowledge to do yourself or you can hire us to write it for you.
But first, let's discuss Step 1.
How to Use Amazon to Create Blog Posts for Generating Sales From Google, Facebook and Twitter
The foundation of your Business Plan and Content Plan should be built with keywords as I mentioned.
I'll discuss keywords, keyword research and how to write blog posts that rank for Google Searches in coming posts.
Lets start by developing a content plan with the help from Amazon.
The Amazon Technique For Generating Google, Facebook and Twitter Results
Before I show you how this works, it's critical to understand that one of the most important criteria Google uses to evaluate how pages rank for your keywords is based on the quantity , quality and diversity of backlinks to your website and web pages. (On Page keywords + Backlinks from quality sites = Google Rank )
One of the things a search engine optimization agency does is submit your site to other sites to obtain these backlinks.
Another important criteria for ranking in local markets are reviews. Reviews are an important signal to Google about the quality of a local business.
Obtaining backlinks is a forced way to obtain Google rank unless your website content is so awesome that everyone wants to link to you. Reviews are made by people but these can be manipulated too. It's easy for a company to get their friends to post positive reviews.
But social media provides true engagement made by people.
As a result, social media is an important signal for search engine optimization (top Google Rank). There is a simple technique that applies to backlinks that you can apply to your blog and social media updates. Keep this in mind, I'll show you how backlinks apply to your strategy in future updates.
So, how do you create a content strategy for a local business? Most business owners and agencies I speak with run out of ideas for blog posts and updates on Facebook, Twitter, Linked In.
They hit a wall. After a while they just run out of ideas to talk about.
The solution is Amazon.
Here's how.
Let's look at the market for dentists. Dentists are local. But what would you write about that your target market cares about? Who is your target market?
When I take a quick trip to Amazon and search the books category for "Dentists", the first thing I see are kids' books about going to the dentist.
Many kids books are available. If you look at the first 3 below, you see each has a different amount of reviews.
Ideally, you want to find books ranked in the top 50,000 of Amazons best sellers list.
The first one is ranked 3,435. That's amazing. It has 67 reviews. That shows engagement. This is a good source with proven demand.
In just a few clicks I just found valuable, free information proving what's in demand based on sales.
Amazon also gives you a preview of the content of the book.
If you look at the Berenstain book, it's all about a child's first loose tooth. There's a whole story there.
Dig a little deeper and you'll find specific keywords that relate to the topic, to kids and their parents. Plus, as a dentist, it's a smart idea to have the best selling kids dentist books in your office rather than just random books.
Amazing what you can find with a few clicks if you know where to search.
Spend a few more minutes digging around Amazon and you'll find the topics and keywords for a lifetime of blog posts and social media messages based on exactly what people want.
This is demand driven marketing.
You can apply this strategy to every business. It doesn't matter whether you're a contractor, lawyer, doctor, builder or run a wine store or real estate agency.
Amazons Free Market Research

As a demand driven marketer, I am always looking for profitable keyword ideas and relevant content.
When I found the Berenstain Bears book about a child's first loose tooth, I started to think about a dentists target market. Let's say a young family is moving to town. They have a 3 kids aged 1,3 and 4. Take a look at the book and the Amazon info. Click Here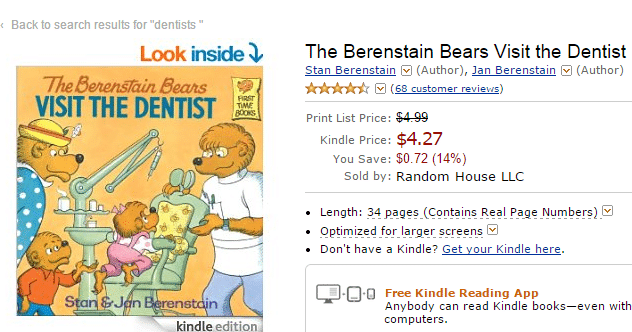 For a dental office, that's a gold mine. A family of 5 (Mom, Dad and 3 kids) with 2 visits per year for 10 years = 100 visits. If each visit is $400.00, that's a $40,000 client.
Ranking at the top of a Google search for Best Dentist for Kids in Newington, Connecticut has minimal online competition. Imagine getting that phone call from your website. It happens every day.
A quick visit to Amazon opened up an entire market online with the information you need to create countless keyword rich blog posts. Then post each blog post title on your Facebook or Twitter page.
Now you have a keyword driven social strategy. All from the help of Amazon and The Berenstain Bears.
Amazon gives you incredible market research with just a few clicks.
Then start doing your keyword research.
In the next post, I'll show you how to find profitable keywords based on your Amazon research.
You want to dominate your local market? This is how.
The Image below shows the Amazon Results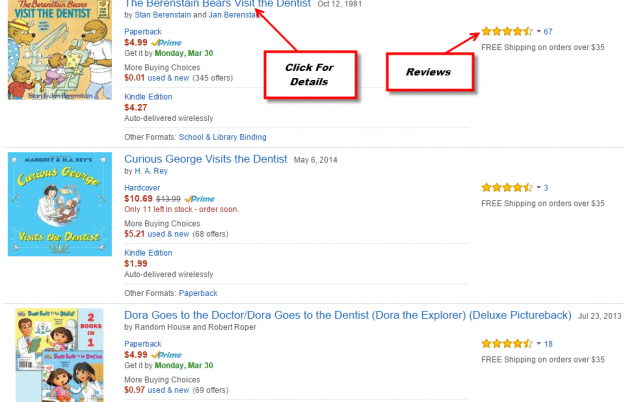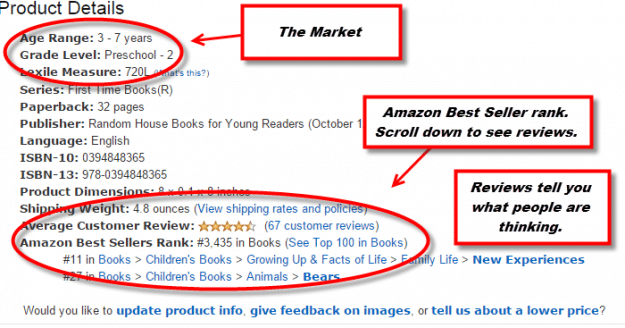 What we found is a niche market, demand and engagement. Now, we know that 3-7 year olds are not searching online, but this information tells what a 3-7 year is thinking about when they have a loose tooth. As a parent, I might want to know this information.
To create your content strategy, research more books on Amazon and you'll find many books, tons of in demand information with niche markets you can capitalize on using keywords.
Amazon takes the guesswork out of your strategy.
Writing Blog Posts and Social Media Messages Using Demand Keywords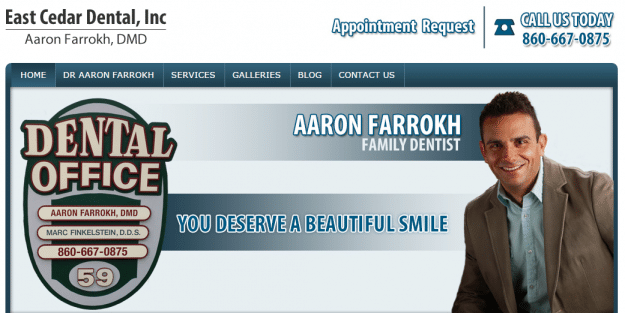 When you write your blog post the title might be, What to Do When Your Child Gets Their First Loose Tooth. The Meta Description could read, East Cedar Dental makes it fun for kids when they lose their baby teeth. Come visit the most friendly dentist in Newington CT.
I don't know much about the loose tooth market, but The Berenstain Bears just showed me what to write about.
All I need now is a keyword research tool.
When you write your blog post, it should be 300 words, more if possible. I'll get into how to write blog posts that produce sales immediately like this one that ranked on Google for 50 search queries in an upcoming post..
Based on my knowledge of keywords the target keyword phrase would be:
• Loose Teeth/Tooth
Relevant Keywords
• Loose tooth
• Baby teeth
• Friendly dentist
• Kids teeth
• Dental Office
• Dentist
• Fun Dentist
• Best
• Local
• Newington Connecticut
You found a niche on Amazon – Loose teeth for 3-7 year olds.
Then we create a list of relevant keywords. Use the target keyword in your blog post with 1-2% keyword density meaning 1-2 times per 100 words in blog post. Then use the synonyms listed in the body of the content.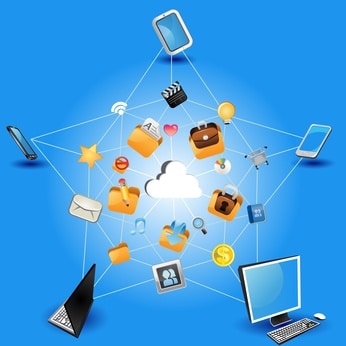 ***Note – The purpose of using synonyms and relevant keywords is to get multiple Google results. As I mentioned, I've written blog posts that get excellent Google ranking for 50 or more different search queries. You want exponential results from a single effort. Think about keyword combinations.
Then upload a photo and create an alt tag in photo with keyword and/or relevant keywords. Create a link to a relevant web page within your site, then create a link to an authority site.
Now, once you post your blog so it's live, you can also post to your social pages utilizing your target and relevant keywords in your social messages on Facebook, Twitter and Linked In. You can also use the same concept on other social sites as well as YouTube.
When you create your social messages, link them to your blog post. The relevance of your social message to your blog post is not only valuable to your user but also to Google.
This relevance is the secret to ranking on Google using backlinks and social media messages.
So there you have it.
The secret to finding niche markets and content for Facebook, Twitter and Linked In and how to boost your Google rank.
It all works together.
Let me know what you think of this post and how it helps you.

Latest posts by Edward Winslow
(see all)