Local and neighborhood marketing online is the new frontier thanks to the fresh direction the Internet is taking. In April, Google is changing its algorithm to feature only mobile-friendly websites in their top searches. Since 90 percent of mobile search is local, Google might as well come out and say, "Get local or get out of town."
If you're still not convinced that local marketing is the future, consider the timely launch of the new .NYC domains. The .NYC domain is not just a domain. It's a local domain that will, in time, make New York City look like its own local search engine. Think Google New York City. 
Local markets are where it's at online. New business models are opening new opportunities every minute.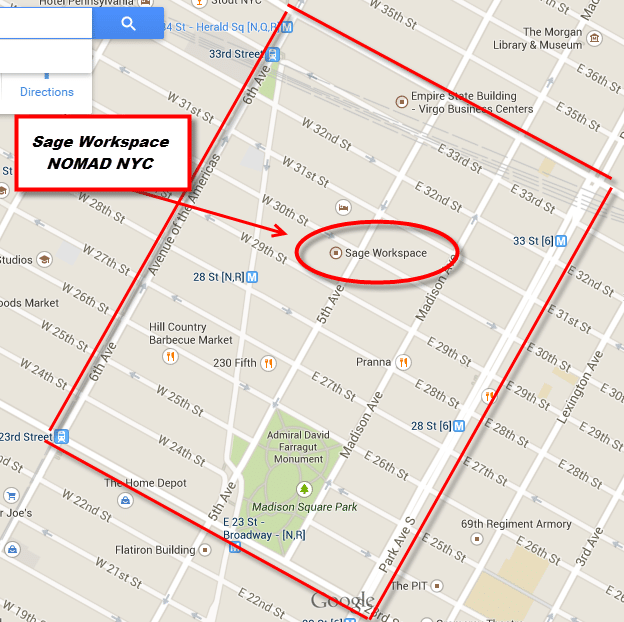 How You Can Capitalize with Neighborhood Marketing Using a .NYC Domain Name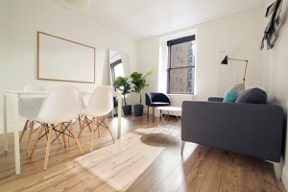 Let's take a look at Sage Workspace of NYC and review how they can compete in a fiercely competitive market with the opportunity to build a scalable local brand. To capitalize on the local trend, they launched their new website on a .NYC domain at www.sageworkspace.nyc .
Located at 276 Fifth Avenue (30th Street) in midtown New York City, Sage provides hourly office and meeting room rentals plus virtual office services starting at $25.00 per month. Compared to the big players in the market like Powespace, Regus and WeWork, they are a small, boutique office space provider.
The demand for short term, temporary offices and conference rooms is high. The driver of this market, technology, creates the ability for people to work anywhere, thus increasing the demand for this type of space. With this increasing demand for office space, the evolving market creates new work environments to cater to specific uses.
This market is essentially internet driven. Due to small, short-term spaces, brokers seeking lucrative fees don't focus on offering them. Big furnished office space companies are paying in excess of $20.00 per click for Google AdWords plus hiring top notch search engine optimization agencies to get those prime coveted positions on Google.
So how does a boutique office provider like Sage compete with 70 companies in NYC providing all different types of space in over 100 locations?
Here's How Sage Can Dominate Their Corner Of The Local NYC Market: And You Can Too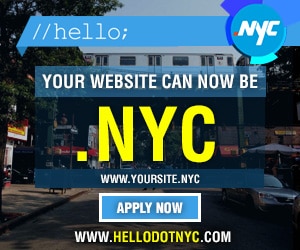 While most of the world is made up of towns, New York City is made up of neighborhoods. That means the strategy for Sage Workspace is to become the neighborhood information leader.
A website and social media accounts are the tools.
As I mentioned, Sage is at 30th Street and Fifth Avenue. Four blocks north is 34th Street, a crosstown 2 way street. To the south is 23rd Street, another 2-way crosstown street. These two streets form boundaries and the beginning of defining a neighborhood. In this neighborhood is an area known as NOMAD with a few hundred buildings including Empire State Building, hotels, restaurants, retail stores and companies like Credit Suisse.
Look at the map on top of the page There are 11 blocks north to south and 3 blocks east to west. Madison Square Park takes up 2 blocks, so there are 31 blocks in this neighborhood.
There are less than 6 competitors in this neighborhood. It's a lot easier to compete in NOMAD than trying to compete in NYC. ( ***Tip – It's easy to rank for Furnished Offices For Rent in NOMAD NYC vs. Furnished Offices for Rent in NYC. )

Sage Workspace Local Blogs, Social Media and Community Websites
A simple strategy is to update the company blog with engaging, keyword driven information that will benefit people who work and live, or may visit the neighborhood. To view an example of a community site visit www.brownstoner.com .
There are endless ways to dominate Google search by becoming the local leader online.
Sample keyword driven blog post ideas include:
Hourly conference rooms for rent near the New York Life Building
Furnished offices near American Academy of the Art
Best martinis in Nomad NYC
Luxury apartment prices in Madison Park Area and NOMAD
Best Places to Eat When Visiting The Museum of Math
Best Bars in Nomad NYC
Recent apartment sales in NOMAD local area
Virtual Offices In NOMAD NYC
The idea is to be the information provider for everything in NOMAD and the areas from 23rd -34th Streets, Sixth Avenue to Park Avenue. The more geographic terms used in blog posts, the more Google will know where you are. Google will learn Sage is the authority in the neighborhood and will feature them more and more at the top of searches.
As Sage gets more online exposure in the neighborhood, new opportunities will open. Implementing a social media strategy driven by local, keyword rich blog posts, Sage will become a household brand in their neighborhood.
Every business in the 390 NYC neighborhoods has this opportunity.
Just write the blog posts followed with updates on Facebook, Twitter and Linked In to become the neighborhood expert. That's all Sage Workspace needs to do, and they'll have more customers than they can handle.
Looking For an Online Business Plan to Dominate Your Local Market?
Call us or download the NicheQuest eBook to get started. Click Here

Latest posts by Edward Winslow
(see all)