It's not just taxes you have to dread in mid-April this year. Courtesy of Google, all business owners with non-mobile-friendly websites will need to update them by April 21st or potentially lose their ranking. If you rely on your website for new leads and/or customers, you definitely want to pay attention!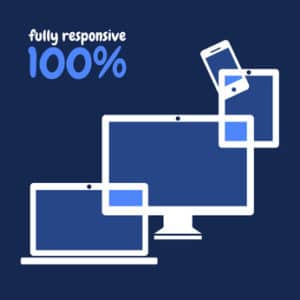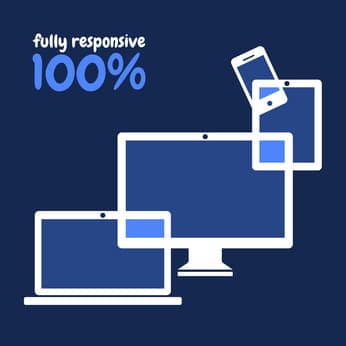 Google will officially update its search algorithm on April 21, 2015 to use a site's mobile friendliness as a ranking factor. If your site isn't up-to-snuff…well, it could be catastrophic for your traffic! The ranking change will affect mobile search globally in all languages.
Websites that are mobile-friendly will have a "significant advantage" according to Google. And it's quite understandable. They want to make sure their users (like you and me) have access to sites that are optimized for viewing on mobile devices. It's all about returning more relevant results for the audience. In this case, making sure an audience that is searching on smart phones and iPads can easily view websites.
The amount of search traffic coming from mobile is steadily increasing. In fact, eMarketer reports that mobile is expected to surpass desktop search in 2015. That's when they predict that the majority of spending, traffic and paid clicks coming from phones and tablets will be larger than the same coming from desktop computers.
Change Comes After November Mobile Testing Site Announcement
Over the last few months, you might have also noticed the label "mobile-friendly" appearing on search results on your smart phone. That's the result of the November 2014 announcement Google made about their mobile friendly test and labeling, which now seems to have been in preparation for this upcoming algorithm change.
Mobile-Friendly Test by Google
If you aren't sure about the status of your site, there's no reason to worry. You may easily test your website's mobile-friendliness by visiting the Google Webmasters Mobile-Friendly Test here.
Here's what a website that doesn't meet the Google criteria for mobile friendly looks like: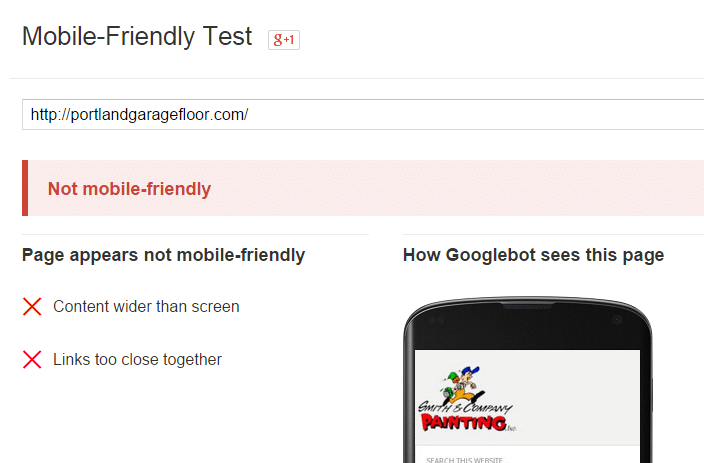 Here are the test results for a site that Google returns as mobile friendly: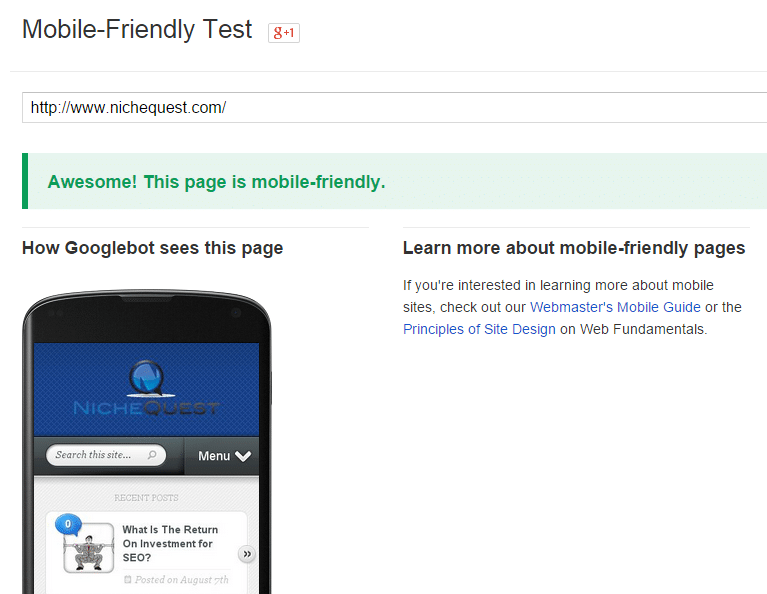 Preparing for the Upcoming Update
If you discover your website is not mobile friendly, you basically have two options:
1) Create a mobile version of your existing website or
2) Obtain a brand new design that is responsive.
Either method will ensure that you don't lose traffic or ranking when the update happens. After April 21st though, you may find yourself lagging in the search results. So you definitely don't want to procrastinate. The best time to take action on your website is before the update happens.
In Need of a Mobile or Responsive website?
NicheQuest Media can help! Whether you want a mobile version created for your existing website or a brand-new completely responsive site, we are available to assist you with making your site mobile-friendly for the upcoming update.
Give us a call today at 203.762.1366 to get started or visit our mobile conversion page here to learn more.
Latest posts by Caroline Vega
(see all)