NicheQuest should be your first call if you want the best Google My Business Consultants (formerly Google Places) for your business. We offer local business consulting for website leads.
Invest a few minutes to learn what our Google Places Consultants can do for your business.
Google Places Consultants – Google My Business Optimization: FREE Review & Consultation
We optimize your Google listing so potential customers easily find you in search results. Creating a Google Profile is much more than entering your name and address and hoping potential clients will visit your site. With a variety of Google Properties and features, it helps to have a guide to help you utilize Google services such as Google Maps, Sites and Adwords to the fullest.
Our highly-trained Google My Business Listing Consultants know what to look for to find out why your current set-up in Google Places or Google Maps might not be working for your company. Local business directories are usually free. There are  many sources to show how to set these up, but most resources we have seen, do not educate how to set them up in the best way possible.
Our experience and training help us to understand the rules to follow to get the best rankings from the top local directories. If you have already claimed your local directory accounts and are not finding your company at the top for the search engines, then call us to set up your free review. We promise that our Google Places Consultants will give you at least ONE great idea you can implement yourself.
Google Places Consultants – Return on Investment for Google My Business
A smart business owner holds each dollar accountable within their budget. If you are spending your hard earned revenue on marketing, you should know if it is working.
We work with Business owners all the time who are spending $300 – $10,000 a month in advertising with no proof as to whether there are results for their investment or not.
We provide a ROI Tracking number for every NicheQuest client. This helps is generate monthly reports so each client can see how many calls they have received directly from our marketing efforts. No guessing means we have to get our clients the results we promise or we are fired.
Here is an example of one of our clients who competes for a very competitive keyword in a city that has a population of 60,000.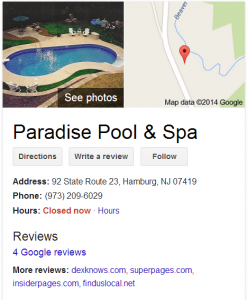 We are so much more than Google Places Consultants.
This is just one piece of the off-page optimization strategy we employ for our clients.
We also focus on BING, Yahoo, Yelp, CitySearch and other top directories.
We will also set-up our clients on 70+ other local business directories creating more authority on the Internet.
Call or email us for a FREE review of your business with one of our Google Places Consultants.
Save
Save