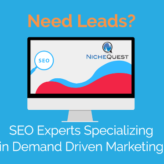 Your Local SEO Guide in Connecticut and Nationwide
Search Engine Optimization is all about one thing…leads.
Getting ranked on Google page one or even #1 on page one is easy. Anyone can do it with a little training, but one keyword is not enough.
The key to generating a steady flow of targeted leads from Search Engine Optimization (SEO) for local businesses is ranking on Google for hundreds of keywords. And not just any keywords, but keywords that are in demand by your customers.
Consider this: a local contractor gets 2,000 visits per month to his website. The site delivers 100 leads in a month. That's more prospects than he can handle. But how many times was the most searched keyword searched?
The answer is 10. The most searched keyword brought 10 visitors to the site out of 2,000. In fact, 1,960 of those visitors each searched something different before clicking through to the website.
The reality is you won't get enough traffic or leads from one good-ranking keyword. You need keyword diversity as well as geographic diversity.
There are exceptions.
Some businesses can get leads for keywords such as Plumber, Nail Salon, Wine Store, Dumpster, Florist. But they are missing out if that's all they target in one town.
The key to Local SEO ranking starts with a demand-driven SEO strategy based on your business model, value of your customer, the number of customers your business can handle and how far you are willing to travel to a client or the distance they will travel to you.
Let's not forget your competitors. Is it easy to get lots of exposure on Google or is the online competition fierce?
Good news! There's always an edge even in the most competitive markets.
Read More